Humorous and Engaging Solo Show She's History! Honors History's Most Underappreciated Women
It's the sad state of affairs that kids these days know more about Kim Kardashian than they do about Abigail Adams. When writer/performer/historian Amy Simon's daughter announced she would do her women's history project on Cher, it prompted Simon to create this fascinating and funny solo performance. Told through the eyes of a modern single mother, the show employs multimedia, audience interaction and storytelling to bring to life the amazing women who made or are making history. Audiences ages 10 and older will be entertained while learning about the accomplishments of such movers and shakers as Abigail Adams, Bella Abzug, Shirley Chisholm and Sojourner Truth, Elizabeth Cady Stanton, Eleanor Roosevelt, Golda Meir and more.
* Additional fees apply.
All offers for She's History! The Most Dangerous Women In America ... Then and Now have expired.
The last date listed for She's History! The Most Dangerous Women In America ... Then and Now was Sunday October 13, 2013 / 2:00pm.
Currently at Lounge Theatre:
Full Price:

$25.00 - $30.00

Our Price:

$12.50 - $15.00
An African-American attorney with a successful career discovers she has an Iraqi half-sister she never knew about in award-winning playwright Wendy Graf's latest work. This hard-hitting drama about family conflict and clashing cultures stars L.A Weekly and NAACP Award-winner Diarra Kilpatrick as up-and-coming corporate attorney Julie Dolan, whose carefully constructed life begins to crumble when she meets her half-sister Neyla. Neyla, a violinist, has fled Iraq to audition for Julliard, but Julie suspects there is more to her story. Graf's fresh spin on racial relations gives each of its characters their own voice and point of view as they navigate in a world that has become interconnected and multicultural on every level. Learn More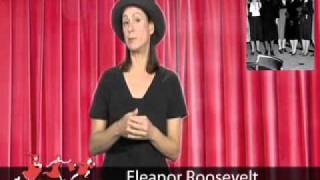 Website
Description
She's History! The Most Dangerous Women In America ... Then and Now, a solo show presented by It Ain't No Fairy Tale Productions, plays at The Lounge Theater in Hollywood.

When her 10-year-old daughter came home from school one March stating she was planning on doing her Women's History Project on Cher, writer/performer and Cultural Herstorian Amy Simon knew something needed to be done.

From Nancy Pelosi to Abigail Adams, She's History! … is chock full of stories, scenes and revelations, seen and told through the eyes of a modern single mother who finds the funny as she struggles with raising girls in today's challenging world. She's History! employs history, multi-media, audience interaction and good old fashioned story telling to show women then and now; like Elizabeth Cady Stanton and Susan B. Anthony who multitask -- just like today's mom -- running the house, fixing dinner and corralling the kids, all while working on the Fourteenth Amendment. See and hear about Bella Abzug, Shirley Chisholm and Sojourner Truth, Alice Paul and Lilly Ledbetter, Eleanor Roosevelt and Golda Meir, bloomers, suffrage, maternal profiling, Seneca Falls, abolition and more! It's all there in a fast-paced hour-long GALA-PALOOZA honoring Female America.

The show is directed by Richard Kuhlman with Mark W. Travis. Kuhlman also directed writer/performer Simon's Cheerios In My Underwear which holds the record as the longest running solo show in Los Angeles. Kuhlman's many other credits include Regretrosexual, Of Mice and Men, Pounding Nails In The Floor With My Forehead, and the Ovation nominated Non-Vital Organs. Mark W. Travis is known internationally for the solo shows that he has developed and directed over the past 15 years, including Time Flies When You're Alive, A Bronx Tale and They Call Me Mr. Fry. He has been credited in Los Angeles Times with having created a "new theater genre."

Simon has been performing her unique brand of herstorical entertainment all over Los Angeles in theaters and story salons and is a frequent commentator and guest on local and national radio.

About the Ticket Supplier: Amy Simon
Comedian Amy Simon produces her one-woman show
Cheerios in My Underwear
at various venues.