Southwest Chamber Music: Cage 2012
Southwest Chamber Music Performs Works by the Legendary John Cage
As part of its Cage 2012 series, the Grammy Award-winning ensemble Southwest Chamber Music presents landmark pieces by iconic contemporary composer John Cage. The program explores the influence of poet Henry David Thoreau on Cage, and consists of
Lecture on the Weather
(with film) and
Score (40 Drawings by Thoreau) and 23 parts: Twelve Haiku Followed by a Recording of the Dawn at Stony Point, New York, August 6, 1974
. A multi-faceted piece,
Lecture
calls for live readings from snippets of Thoreau's work, and SCM's participating guests include Terrence Roberts, a psychologist, and original member of the Little Rock Nine; E. Randol Schoenberg, grandson of the composer Arnold Schoenberg; John Schneider, host of KPFK's Global Village; and more.
* Additional fees apply.
All offers for Southwest Chamber Music: Cage 2012 have expired.
The last date listed for Southwest Chamber Music: Cage 2012 was Saturday March 24, 2012 / 8:00pm.
Currently at Zipper Concert Hall at the Colburn School:
Full Price:

$35.00

Our Price:

$17.50
Dedicated to the performance of new and lesser-known works composed for their instrument, Piano Spheres spotlights one of its principal musicians, the acclaimed Susan Svrcek, who'll premiere a piece written especially for her. Famed for her wide-ranging repertoire, Svrcek's had a stellar performing and teaching career in Southern California and beyond, since making her debut at New York's Carnegie Hall. For this recital, she'll play an audience favorite by Olivier Messiaen, "Les offrandes oubliées," along with selections from James Wilding's Bits 'n' Pieces and Béla Bartók's Improvisations on Hungarian Peasant Songs, Op. 20. She'll also debut the piece her husband, noted composer Frederick Lesemann, penned for her, Preludes After a Tenor by Guillaume Dufay. Learn More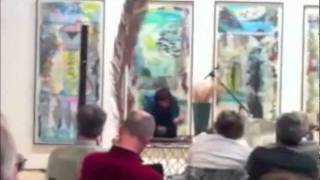 Website
Description
Grammy Award-winning Southwest Chamber Music continues its survey of musical works by John Cage in Cage 2012, a festival honoring the centennial of Cage's birth. The concert is a celebration of Henry David Thoreau, a major influence on Cage. The program consists of two works engaging Thoreau's words and drawings. Lecture on the Weather (with film) and Score (40 Drawings by Thoreau) & 23 parts: Twelve Haiku Followed by a Recording of the Dawn at Stony Point, New York, August 6, 1974.
Performers include musicians of Southwest Chamber Music joined by a celebrity list of speakers, plus students from Hamilton High School Academy of Music, a Grammy Signature School and winner of the 2010 Bravo Award for excellence in teaching the arts. The "outspoken men" in Lecture on the Weather include: Terrence Roberts, psychologist, and original member of the Little Rock 9 which de-segregated Central High School in Little Rock in 1954 during the Civil Rights Movement; E. Randol Schoenberg, board member and grandson of the composer, Arnold Schoenberg; Michael Alexander, Executive Director of "Grand Performances" in Los Angeles; John Schneider, host of KPFK's Global Village_; Thor Steingraber, Vice President of Programming for the Music Center; Charles Dillingham, Interim Executive Director for the Pasadena Playhouse and former Managing Director of the Center Theater Group; Bob Bruning, music teacher (technology, industry, production)at Hamilton Academy of Music; David Spiro, tenor, and Development Manager for Southwest; Jeff von der Schmidt, Southwest Chamber Music Artistic Director; and Tom Peters, James Foschia, Peter Jacobson, Southwest musicians.
Lecture on the Weather _was commissioned by the Canadian Broadcasting Company and composed in collaboration with a filmmaker and a recording engineer. It is prefaced with an essay by Cage, read live, and followed by fragments of Thoreau's Walden, his Journal, and Lecture on Civil Disobediance, selected in chance operations. It was to be performed, according to Cage, by 12 men, "preferably American men who have become Canadian citizens." Score was composed by means of placing Thoreau drawings from his journal and other sources upon twelve lines of music staves which serve as graphic notation for the musicians. The drawings upon each staff are arranged in the 5-7-5 structure of a Haiku poem, and each line is a Haiku. Finally, the musicians stop, and a tape of the dawn at Stony Point invites the world into the concert hall.
About the Ticket Supplier: The Colburn School
The Colburn School presents a full season of performances of music, dance, mime and drama every year.