The Left Banke: Reunited '60s Pop Band Behind "Walk Away Renee"
Pioneers of '60s "baroque pop," the Left Banke's string-laced sound had a major impact on pop and rock music in the second half of that legendary decade. The group scored a couple of major hits during its short initial run, including the classic-rock and oldies radio staples "Walk Away Renee" and "Pretty Ballerina," before calling it quits (off and on) until a much ballyhooed 2011 reunion. For this show, original members Tom Finn, George Cameron and band will play a mix of the Left Banke's timeless tunes. Singer-songwriter Alan Merrill (the original writer-performer of "I Love Rock 'n Roll") opens the show.
* Additional fees apply.
All offers for The Left Banke have expired.
The last date listed for The Left Banke was Sunday April 29, 2012 / 8:00pm (Doors Open at 6:00pm).
Currently at B.B. King Blues Club:
Full Price:

$10.00

Our Price:

COMP
Singer-keyboardist Brian Mitchell has recorded and performed with everyone from Bob Dylan and B.B. King to Levon Helm, Allen Toussaint, Dolly Parton, Al Green and even former President Bill Clinton. The native New Yorker has also released two albums of his own material, creating a unique sound that mixes gutbucket blues, funky New Orleans-style R&B, quirky Latin rhythms and a bit of the avant-garde. Whether on keyboard, organ, accordion, piano or vocals, Mitchell's an extraordinary performer who has played all over late-night TV, at prestigious music festivals and at top venues across the country and around the world. Learn More
Reviews & Ratings
Featured review from Abednago
This was truly a magical event with unexpected surprises! Tom Finn and George Cameron have reformed the Left Banke and have done several shows around New York and Washington DC in the last year. However this show at B.B. King's will truly be remembered for years to come! Firstly Mike Fornatale has a voice just as sublime and powerful as the original lead singer Steve Martin Caro. He truly should be praised for embodying the spirit of the songs and creating an atmosphere that elevates this revised group from being merely an oldies circuit group, profiting off of nostalgia and memories rather than talent. Both George Cameron and Tom Finn also sang lead on a couple of songs a piece and sounded just like the originals, like "Goodbye Holly," "Bryant Hotel," "Dark is the Bark" and "There's Gonna Be a Storm." The band was fleshed out by top notch performers who vividly and accurately reproduced the authentic sound of the Left Banke. However it was not just studio songs reproduced live, but rather felt like the Left Banke live! Some of the songs contained new solos and arrangements, with a extended jam following a particularly rocking version of "I Haven't Got the Nerve." The bass playing was provided by Charly Cazalet who has been a long time associate and unofficial member of the band and was exquisite, as was the drumming of Rick Reil. The guitarist Paul Alves put extra muscle into their rocks songs, which the Left Banke aren't remembered for as much as their baroque pop ballads, that is until after this night. The band turned in particular amped up versions of "Love Songs in the Night," "Lazy Day," and "Evening Gown." The set concluded with a new song entitled "City Life" and sung by Tom Finn which rocks harder than anything they recorded in the sixties, yet at the same time retains a robust string section. The majority of the set list though consisted of their well know and sublime pop ballads and minor key songs, such as "Dark is the Bark," "Nice to See You," and "My Friend Today." The soul of the sound for this group of songs were the keyboard playing of Mickey Finn and the string section provided by Lynn Bechtold on violin and Ben Larson on cello, who truly made a classical performance classic. Their superb playing flesh out the sound of the band and made the evening feel much more like a small chamber orchestra. The baroque playing of the harpsichord and the strings together more than any other element most closely resembled and re-instituted the original Left Banke legacy. Most memorable were the arrangements to "There's Gonna a Storm" and the new arrangement to "I Can Try." These performances were topped only by the finale version of "Walk Away Renee" which was played with a vigor and familiarity that truly communicated the essence of the original. However without a doubt the capstone of the whole evening was when original member Michael Brown unexpectedly joined the group onstage for a rendition of "Pretty Ballerina." His performance even brought a tear to Tom Finn's eye and was received with a standing ovation. The show was even followed by a band meet and greet and Rick Brand, their guitarist in the mid-sixties even showed up! For long time fans of the Left Banke this performance will be remembered for a long time as the most magical evening.
view

more

less

of this review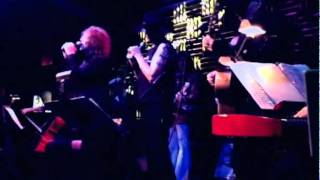 Website
http://www.bbkingblues.com/bio.php?id=1358
Quotes & Highlights
Visit <a target="_blank" href="http://www.leftbankeband.com/">the Left Banke's website</a> for music samples, photos, bio info and more.
&ldquo;Utterly transcendent.&rdquo; --<em>The Huffington Post</em>