Hemophelia's Psycho Cinematix
Hemophelia's Psycho Cinematix: Sketch Comedy Show Scares Up Horror Movie Parodies
Hosted by the lovely Hemophelia (Lara Fisher), this late-night sketch comedy show from the Visceral Company features horrifyingly funny parodies of scary movies from the '70s and '80s, including The Omen, Halloween, Poltergeist and others. An ensemble cast of sketch(y) comics and stand-ups re-enacts a pair of horror films in all their hilarious and gory glory, and new classics are skewered every two weeks.
All offers for Hemophelia's Psycho Cinematix have expired.
The last date listed for Hemophelia's Psycho Cinematix was Saturday July 23, 2011 / 11:00pm (The Amityville Horror & Poltergeist).
Currently at Avery Schreiber Playhouse:
Full Price:

$20.00

Our Price:

$10.00
Set in a post-apocalyptic war society, this daring adaptation of William Shakespeare's Othello features radical cuts and mildly modernized language to tell the story of the noble Moor. Ghost Players Theatre's version maintains the wonderfully poetic rhythm, blatant thuggery and deceitful deeds of the original as Othello's life and marriage topple at the hands of his trusted advisor. One of the most compelling villains ever written, Iago draws Othello and the audience into his spider's web of half-truths. Horrified and enthralled, you can't help but be fascinated by him, even as he transforms love into hate and happiness into misery. Learn More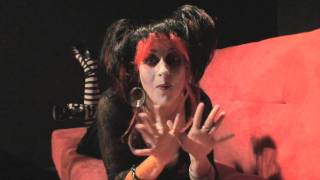 Website
http://www.thevisceralcompany.com
Description
The Visceral Company is pleased to present Hemophelia's Psycho Cinematix, a series of zany parodies of classic horror movies from the 1970s and 80s conceived and directed by Dan Spurgeon. Hosted by everybody's favorite "ghoul next door" Hemophelia (portrayed by Lara Fisher), Hemophelia's Psycho Cinematix is a madcap sketch comedy show featuring two hilarious horror movie parodies each night, with a new double feature premiering every two weeks.
The ensemble cast of sketch comedy and stand-up veterans humorously interprets classic performances from the movies. Yes, there will be gender-bending!
The schedule of movies given the "psycho cinematix" treatment is as follows —
June 17 – 25:_ Halloween_ and Friday the 13th Part 3 (in 3-D!)
July 1 – 9: Rosemary's Baby and The Omen
July 15 – 23:_ The Amityville Horror_ and _Poltergeist _