Tour National Geographic's 125-Year Retrospective Exhibit With Historian Mark Collins Jenkins
Archivist and historian Mark Collins Jenkins is the author of
National Geographic 125 Years
, the Society's recent official retrospective. Join Jenkins, formerly a historian with the National Geographic Society, for an in-depth tour of the impressive history of the Society showcased in the National Geographic Museum's exhibition
A New Age of Exploration
. The exhibit celebrates 125 years of the magazine's acclaimed storytelling through stunning photography, film and interactive experiences. Cocktails and light fare are included with the tour.
* Additional fees apply.
Turn any event into a gift that's…
Exchangeable.
Festively wrapped.
Can be sent via email or mail.
Experiences that create memories make the greatest gifts.
Make This a Gift
Select Your Date
We're on it!
Tell me when more dates are available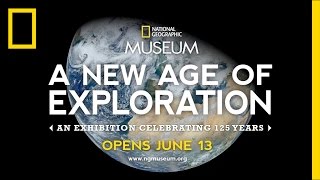 Website
http://events.nationalgeographic.com/events/special-events/2013/10/...
About the Ticket Supplier: National Geographic Live!
The National Geographic Society was created in Washington, D.C., in January 1888 for "the increase and diffusion of geographic knowledge." The Society mirrors the world and all that is in it through incisive magazines, maps, books, films and interactive media.

Enjoy a wide variety of changing exhibitions that reflect the richness and diversity of our world at the National Geographic Museum. The Museum's exhibitions and the scientific fieldwork and expeditions on which they are based are supported by National Geographic's Mission Programs, which receives generous funding by corporations, foundations, and individuals.