Risk! Fail! Explore! Scientists & Extreme Adventurers Discuss the Use of Failure
Get a fascinating perspective on failure from frontline scientists and explorers whose work involves taking calculated risks. Inspired by the article "Failure Is an Option" in the September 2013 National Geographic, a panel moderated by Marc Silver, National Geographic's deputy editor for text, will look at how risk and failure are indispensable to scientific progress. Participants include virologist Victoria Jensen, who studies dangerous viruses; herpetologist and National Geographic Emerging Explorer Zoltan Takacs, who travels the world in search of venomous snakes; archaeologist and National Geographic Fellow Sarah Parcak, who uses satellite technology to locate hidden Egyptian antiquities; extreme filmmaker and kayaker Trip Jennings, who has paddled white water to explore rivers around the world and made a first descent of the notoriously dangerous lower Congo River; and climber Peter Athans, known as "Mr. Everest" for his numerous successful ascents of that epic mountain.
All offers for Risk! Fail! Explore! have expired.
The last date listed for Risk! Fail! Explore! was Tuesday December 10, 2013 / 7:30pm.
Currently at National Geographic's Grosvenor Auditorium:
Full Price:

$24.00

Our Price:

$12.00
Being spit at by a chimpanzee, screamed at by a prairie dog and charged by a pig is all in a day's work for veteran photographer Vincent J. Musi. As part of the National Geographic Live! series, he'll share images and stories from his April 2014 National Geographic article, "Exotic Pets." Musi explored the deep connections owners have with creatures you can't buy at a pet store, from a deer that has her own bedroom to a cuddly potbellied pig. He'll also talk about his work on other National Geographic stories, including "Animal Minds" from March 2008. Learn More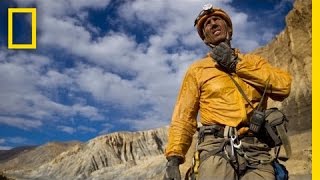 Website
http://events.nationalgeographic.com/events/special-events/2013/12/...
Quotes & Highlights
Check out <a target="_blank" href="http://events.nationalgeographic.com/events/special-events/2013/12/10/risk-fail-explore/">videos and photos of explorations</a>.
About the Ticket Supplier: National Geographic Live!
The National Geographic Society was created in Washington, D.C., in January 1888 for "the increase and diffusion of geographic knowledge." The Society mirrors the world and all that is in it through incisive magazines, maps, books, films and interactive media.
Enjoy a wide variety of changing exhibitions that reflect the richness and diversity of our world at the National Geographic Museum. The Museum's exhibitions and the scientific fieldwork and expeditions on which they are based are supported by National Geographic's Mission Programs, which receives generous funding by corporations, foundations, and individuals.