Risk! Fail! Explore! Scientists & Extreme Adventurers Discuss the Use of Failure
Get a fascinating perspective on failure from frontline scientists and explorers whose work involves taking calculated risks. Inspired by the article "Failure Is an Option" in the September 2013 National Geographic, a panel moderated by Marc Silver, National Geographic's deputy editor for text, will look at how risk and failure are indispensable to scientific progress. Participants include virologist Victoria Jensen, who studies dangerous viruses; herpetologist and National Geographic Emerging Explorer Zoltan Takacs, who travels the world in search of venomous snakes; archaeologist and National Geographic Fellow Sarah Parcak, who uses satellite technology to locate hidden Egyptian antiquities; extreme filmmaker and kayaker Trip Jennings, who has paddled white water to explore rivers around the world and made a first descent of the notoriously dangerous lower Congo River; and climber Peter Athans, known as "Mr. Everest" for his numerous successful ascents of that epic mountain.
All offers for Risk! Fail! Explore! have expired.
The last date listed for Risk! Fail! Explore! was Tuesday December 10, 2013 / 7:30pm.
Most Popular Lectures & Classes Event Nearby:
Full Price:

$15.00

Our Price:

SOLD OUT
They made economics fascinating -- and even fun -- in their New York Times bestseller Freakonomics, and now award-winning economist Steven Levitt and journalist and author Stephen Dubner want to teach you how to Think Like a Freak. Join the dynamic duo, hosts of the popular Freakonomics Radio podcast, as they bring their shared talents for exposing the hidden side of just about everything to the Sixth & I Historic Synagogue. In Think Like a Freak, Levitt and Dubner teach about thinking more productively, more rationally and more creatively. Copies of the new book will be available for purchase at the event. Learn More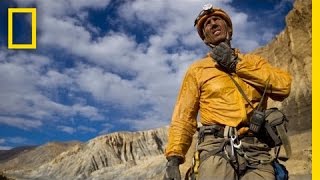 Website
http://events.nationalgeographic.com/events/special-events/2013/12/...
About the Ticket Supplier: National Geographic Live!
The National Geographic Society was created in Washington, D.C., in January 1888 for "the increase and diffusion of geographic knowledge." The Society mirrors the world and all that is in it through incisive magazines, maps, books, films and interactive media.
Enjoy a wide variety of changing exhibitions that reflect the richness and diversity of our world at the National Geographic Museum. The Museum's exhibitions and the scientific fieldwork and expeditions on which they are based are supported by National Geographic's Mission Programs, which receives generous funding by corporations, foundations, and individuals.