Bootycandy: A Sexy, Subversive Comedy From Robert O'Hara
Being both black and queer isn't the easiest thing in the world (to say the least), but Robert O'Hara shows that there is a lighter side in his subversive semi-biographical comedy Bootycandy. It's the story of Sutter, a young gay black man on an outrageous journey that takes him from his childhood home through churches, dive bars, motel rooms and even nursing homes. O'Hara weaves together scenes, sermons, sketches and daring meta-theatrics to create a hysterically funny look at the experience of being a homosexual in the black community. This uproarious satire, which New York magazine called "insanely entertaining and completely engaging," veers wildly from absurdity to naturalism as Sutter comes to terms with his sexuality. As the pieces of his surreal puzzle come together, the scenes of Sutter's life paint an audacious and utterly fearless portrait of the queer black experience. See the action unfold at Calderwood Pavilion at the Boston Center for the Arts.
All offers for Bootycandy have expired.
The last date listed for Bootycandy was Saturday, Apr 9, 2016 / 8:00pm.
Currently at Calderwood Pavilion at the Boston Center for the Arts
Full Price:

$85 - $100

Our Price:

$45 - $65
Master illusionist Ivan Amodei has stumped Penn and Teller on their show Fool Us. His original… More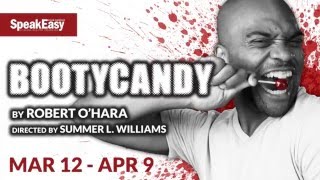 Event Website
Quotes & Highlights
• " … [O'Hara's] got a sizable talent, not to mention another important asset for a playwright who wants to make his mark by shaking up the world, one audience at a time: fearlessness." —The New York Times
• " … Robert O'Hara's funny, smutty and, on the whole, enticingly subversive Booty Candy." —The Washington Post
• "O'Hara's play is all the more powerful for being so fearlessly unpredictable." —Los Angeles Times
Description
This show contains adult language and content and nudity. It's recommended for ages 17 or older.
Read an interview with Robert O'Hara here.
More to Explore
<em>Disney's The Little Mermaid</em>
<em>My Mother's Italian, My Father's Jewish & I'm Still in Therapy</em>
<em>Sinners & Saints</em> Halloween Cruise
Boston 3-Day HalloWeekend Bar Crawl
Comedian Mark Normand
Osaka Comedy