Pimprov -- Hilarious, Original Improv Comedy
It's not hard out here for a
Pimprov
at Chicago's Chemically Imbalanced Theater. The show has been hailed by critics and audiences alike as one of the most original and hilarious unscripted comedy events in town. Performers include Mark Bratton as "Ho'Lease," Jonathan Keaton as tap-dance happy "Daddy Jenkins," creator Marz Timms as the enterprising "Grand Finale" and Keith Smitherman as the enforcer "Poochie." With plenty of opportunity for audience involvement,
Pimprov
provides a dangerously funny and always unpredictable evening of laugh-filled entertainment.
* Additional fees may apply. For events with a discounted price, no coupon or promo code is necessary to purchase tickets.
Turn any event into a gift that's…
Exchangeable
Festively wrapped
Can be sent via email or mail
Experiences that create memories make the greatest gifts.
Upcoming Dates & Times
October

14

15

16

17

18

19

20

21

22

23

24

25

26

27

28

29

30

31
November

1

2

3

4

5

6

7

8

9

10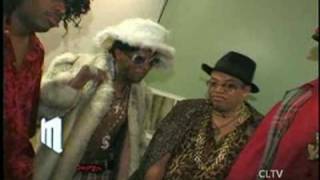 Quotes & Highlights
"Politically correct, no … funny, yes!" —Chicago Tribune
"More than traditional improv." —Los Angeles Times
"Ho'larious." —Now Toronto
Description
Pimprov creator Marz Timms said "CIC is as close to a home theater as Pimprov has, and looks forward to another great season of quality shows. CIC is a class company waiting to explode."
This show is not recommended for audience members younger than 13.
More to Explore
Just Roots Chicago Harvest Celebration
<em>The Dinner Detective Interactive Murder Mystery Show</em> Chicago
<em>Idomeneo</em>
Signature Scent Class
Anarchy
<em>A Nightmare on Main Street</em>