Broncs & Bulls Rodeo: Get Roped Into the Excitement at the OC Fair
It's been called the most exciting eight seconds in all of sports -- when a rodeo rider sets himself atop a high-kicking bronc or bucking bull and tries to hang on for dear life without getting thrown, stomped and/or gored. You'll witness that and much more at the latest edition of the Broncs & Bulls Rodeo, taking place over the course of two hot summer nights at the OC Fair's Action Sports Arena in Costa Mesa. This annual competition includes tickets to the fair, so come early and stay late to enjoy all the food, rides and excitement.
* Additional fees apply. No coupon or promo codes necessary to enjoy the displayed discount price.
Upcoming Dates & Times
August

1

2

3

4

5

6

7

8

9

10

11

12

13

14

15

16

17

18

19
OC Fair
View upcoming dates and read more about OC Fair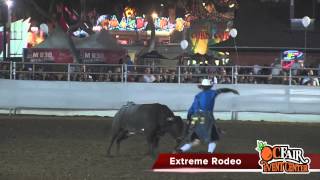 Event Website
Description
This event features large, untamed animals in direct contact with human beings and may not be suitable for all ages.
More to Explore
<em>Midsummer Scream</em> Halloween Festival
Knott's Berry Farm
<em>La La Land</em> in Concert
<em>Absinthe</em>
Big Summer Beerfest
<em>The Marriage of Figaro</em>