Mexican-Style Cowboy Feats at the OC Fair
See the talent and skill of elaborately dressed Mexican charros when horsemen and roping experts Fiesta Del Charro come to Costa Mesa's Action Sports Arena. Drawing upon a Mexican cowboy tradition dating back almost 500 years, these fabulously gifted riders and ropers perform breathtaking stunts, including the famous floreo de reata, the art of lariat tricks. In this beautiful form, a masterful cowboy spins his lariat into a wide variety of shapes, from butterflies and merry-go-rounds to rings, umbrellas and more. They'll rope you in with their amazing talent. Your ticket to this event includes same-day admission to the Fair.
All offers for Fiesta Del Charro have expired.
The last date listed for Fiesta Del Charro was Sunday, Aug 5, 2018 / 7:00pm.
OC Fair
View upcoming dates and read more about OC Fair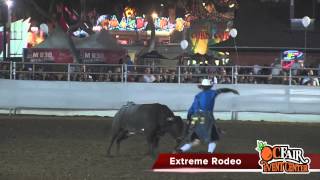 Event Website
Description
This event feature large, untamed animals in direct contact with human beings, and might not be suitable for everyone.
More to Explore
<em>Flavors of San Juan Capistrano</em>
Vampire Queen of Mars
Mal Hall
<em>Expect the Unexpected</em>
<em>All Shook Up</em>
2018 Season at The Muckenthaler Cultural Center