Murder Mystery Dinner: An Interactive Homicide Case at the Old Mill Inn
Step into the rustic decor of the Old Mill Inn -- surrounded by dark wood, hand-carved beams and vintage stonework -- and you're in the perfect setting for an evening of mystery and intrigue. Indeed, the historic landmark building is said to be haunted by the spirit of an old German cook named Hilda who died by falling (or being pushed) into a vat of her famous bread dough. At Keith and Margo's Ultimate Murder Mystery Dinner, you'll have a murder mystery of your own to investigate. As you enjoy a three-course dinner featuring award-winning chicken-fried steak with cream gravy (vegetarian options available), the action will unfold all around you -- and you'll get drawn into it by the homicide detective (a professional stand-up comedian) who considers you a suspect. Deemed "the masterminds of the genre" (Los Angeles Times), Keith and Margo's improvisational actors mingle amongst you as you follow clues and try to solve the crime. The murderer might be sitting right next to you ... A prize goes to the person who's the best sleuth!
All offers for Keith and Margo's Ultimate Murder Mystery Dinner have expired.
The last date listed for Keith and Margo's Ultimate Murder Mystery Dinner was Saturday, Sep 8, 2018 / 7:30pm.
Most Popular Theater Event Nearby
Full Price:

$15

Our Price:

$7.50
A bloodthirsty cycle of corruption and betrayal begins when the much-loved king of Scotland is… More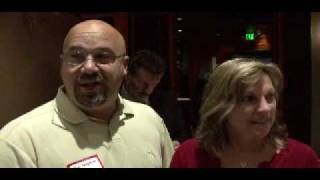 Event Website
Quotes & Highlights
Watch a "video ":http://murdermysterytexas.com/Whats_it_like/index.htmlshowing you what you're in store for at Keith and Margo's Murder Mystery Texas.
"Keith and Margo have set the standard that all others try and emulate… they are the masterminds of the genre! By far the most professional and elegant!" —Los Angeles Times
"The Rolls-Royce of mystery companies… Still the best!" —Hollywood Magazine
Description
Ticket price includes dinner, show, tax and tip. The only thing you pay for are drinks (outside of coffee/tea).
Attire is upscale casual (tie/jacket optional).
This event features adult situations and mild innuendo, and is recommended for those age 14 or older. The event lasts approximately three hours.
When you arrive, there will be an hors d'oeuvres reception. There's a cash bar where you can purchase refreshments. Dinner will be served 45 minutes after the event start time, so plan for a late dinner.
The murder mystery action features contemporary 21st Century plots involving murder, mystery and mayhem, designed for sophisticated adults. You are literally in the middle of a live-action experience, conducting your own investigation into a homicide case.
Along with motive, means and opportunity, the plot meticulously unravels throughout the evening with a generous dose of humor, a lot of action and a series of clues and leads which take some real unsuspected turns.
Before the mystery comes to a dramatic conclusion, each of the guests are invited to hand in their own solutions. Then, the Homicide Detective, in a suspense-filled final scene, ties all the pieces together and exposes the murderer or murderers — much to the surprise and delight of the guests. A prize is then awarded to the most detail-oriented and accurate amateur sleuth.
Menu (Food provided by Ed Campbell Company)
Fresh Garden Green Salad with Grated Carrots, Red Cabbage, Diced Tomato, served with Ranch Dressing
Award Winning Chicken-Fried Steak with Cream Gravy (Voted by D Magazine in the Top 10 Best Chicken-Fried Steaks in Dallas)
Homemade Chocolate Cream Pie
Vegetarian meals accommodated with 48 hours prior notice.
The menu is current at the time of publication, but is subject to change without notice.
About the Caterer
The fine food served during Keith & Margo's Ultimate Murder Mystery Dinner is provided by the Ed Campbell Company, an experienced catering organization that has catered countless official events including Artfest, Dallas Arboretum and Botanical Garden, Taste of Dallas in the West End, Shakespeare Festival of Dallas, Eric Clapton Crossroads Guitar Festival, World Cup Soccer, Catherine the Great Exhibit, Dallas Convention Center, and was selected to supply culinary delights in the V.I.P. suite during the famous "Cirque du Soliel" North American Tour. Mr. Campbell has hosted dinners for King and Queen of Sweden and for President Ronald Reagan.
Architecture and Decor
The restaurant thrives on nostalgia for by-gone days. The theme of the nostalgic architecture depicts the unfolding of North Texas History. For example, the historic exterior represents an ancient, rustic mill circa 1836. German carpenters connected the overhead hand-carved beams of the roof with wooden pegs made of old timbers. The stones are laid in the style of the 19th century masons. The downstairs dining area fireplace appears just as it was in 1936.
Paranormal Ghost Activity at The Old Mill Inn
During the 1936 Texas Centennial and World Fair, people would come from all over Texas to taste the famous Cobblestone bread that an old German woman known only as Hilda would freshly bake. To this day, people don't know if she fell… or was pushed into a vat of rising bread dough. One thing we do know is: her recipe has vanished forever along with that wonderful Cobblestone Bread that made Hilda so well-known back in the day. Hilda has been heard by kitchen staff clanging pots and pans in the Old Mill Kitchen. In the Attic, directly above the Murder Mystery Dining Room and leading to the haunted Old Mill Tower, restless foosteps have been heard late at night. Her apparition has been seen briefly by wait staff and customers alike as she walks the restaurant, offering her recipe… and sometimes even manifesting around the patio area, perhaps looking for her murderer amongst the guests.
Landmark Status
The Old Mill Inn still stands as a unique, historic Texas landmark and a fascinating piece of Dallas history. An ideal setting for intrigue, cold-blooded murder, slippery red herrings, diabolical clues, and ingenious detective work!
About the Theater Troupe
Keith & Margo's Murder Mysteries, Inc. is an internationally-acclaimed entertainment service. To quote the Los Angeles Times: "Keith & Margo have set the standard that all others try and emulate… They are the masterminds of the genre! By far the most professional and elegant!" Since 1983, they've been responsible for more excitement and skullduggery around the globe than any other troupe, producing live-action "Who-Dun-Its" worldwide!
More to Explore
<em>White Christmas</em>
Plumb & Unspoken
Moscow Ballet's <em>Great Russian Nutcracker</em>
Dallas Chamber Symphony: <em>Souvenir de Florence</em>
Live Comedy at Backdoor Comedy Club
<em>MyOhMy The Show</em>