AnDa Union: Updated Mongolian Music and Throat-Singing
Hailing from the Xilingol Grassland and other areas of Inner and Outer Mongolia, the 10-member ensemble known as AnDa Union revives and updates the folk music of their homeland, creating a completely cool new beat-driven sound. Along with traditional string, percussion and wind instruments like the morin huur (horse-head fiddle) and tsuur (a three-holed flute), the Hohhot, China-based group also specializes in both the famed guttural throat-singing and long-song vocalizing techniques of their Mongol ancestors. They've performed to enthusiastic crowds worldwide since coming together in '03, and have released several CDs, including the award-winning Songlines.
There are currently no offers for AnDa Union.
Currently at Irvine Barclay Theatre
Full Price:

$35 - $45

Our Price:

$17.50 - $33.75
Capturing timeless movements that date back centuries, GuGu Drums of Shanghai is a talented group of… More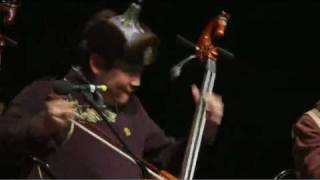 Event Website
Quotes & Highlights
Check out the artists' website.
More to Explore
<em>Midsummer Scream</em> Halloween Festival
Knott's Berry Farm
Newport Beach Evening Under the Stars Cruise
<em>La La Land</em> in Concert
<em>Absinthe</em>
Big Summer Beerfest