Sexy Football Action From Lingerie Football League's Seattle Mist
A different type of "fantasy" football comes to life at the ShoWare Center as the Lingerie Football League's Seattle Mist host the Las Vegas Sin in a pivotal Western Conference showdown. The outfits may be tiny, but there's lots of big talent in this tantalizing, action-packed match-up. In a seven-on-seven, full-contact bout, the Mist will look to continue their winning momentum coming off of their 42-8 rout of the Green Bay Chill. Talented rookie quarterback Angela Rypien, the daughter of former Washington Redskin and Super Bowl MVP Mark Rypien, leads the Mist's offense. The Sin enter this game with a 1-0 record as well, after their road win over Chicago.
* Additional fees apply. No coupon or promo codes necessary to enjoy the displayed discount price.
All offers for Lingerie Football League: Las Vegas Sin vs. Seattle Mist have expired.
The last date listed for Lingerie Football League: Las Vegas Sin vs. Seattle Mist was Friday November 4, 2011 / 7:00pm.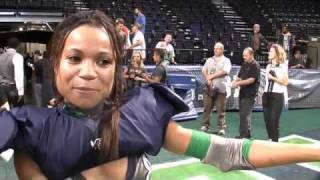 Event Website
Description
*Seattle Sin: *
Seattle enters the action riding a tidal wave of momentum after thrashing the Green Bay Chill 42-8 on opening night. Mist Head Coach Chris Michaelson, known as one of the league's best strategists and perhaps the game's brightest offensive mind, is looking to utilize a bevy of veteran and rookie weapons to bludgeon opposing defenses into submission.
Led into battle on offense by talented rookie quarterback Angela Rypien, the daughter of former Washington Redskin and Super Bowl MVP Mark Rypien, the Mist offense possesses extensive firepower and dangerous weaponry. The recipient of many Rypien passes this season is sure to be All-Fantasy wide receiver Jessica Hopkins (2 TD vs. Green Bay), whose athleticism and instincts make her one of the best receivers in the game. At running back, All-Fantasy selection Kam Warner (105 total yards, 3 TD vs. Green Bay) possesses the enviable combination of raw power and agility, is sure to present opposing defenses with a significant challenge in containing her each week.
The Mist defense is largely suspect up-front, but with Warner, Hopkins (1 INT vs. Green Bay) and a complement of above-average secondary personnel, the team performed quite well against Green Bay, limiting the Chill to under 70 yards both on the ground and through the air, as well as forcing fumbles, turnovers and delivering hard hits to star quarterback Anne "Showtime" Erler with regularity. Seattle looks to run an aggressive, run-stopping focused scheme scheme designed to force opposing offenses to throw the ball deep, potentially allowing the secondary to come up with turnovers or deflections.
Las Vegas Sin:
Head Coach Dion Lee and the Sin head into their second consecutive road test hoping to replicate the success of a convincing, but equally shocking, 32-20 win over Chicago.
Featuring a dynamic and well-balanced offensive attack, led by quarterback Nikki Johnson (159.8 QB Efficiency Rating, 3 TD vs. Chicago) and running back Tracee Thomas (9.9 yards-per-carry vs. Chicago), Las Vegas prides themselves on running an aggressive, up-tempo playbook that focuses the speed of their personnel to own the edges of the field while allowing the powerful running of Laosamos "Sunshine" Uli to wear down the opposition between the numbers.
On defense, the Sin are expected to mainly play man-to-man coverage, as Coach Lee believes this architectural design will allow for his players to ultimately 'bring the house' at the Seattle offensive line, forcing the quarterback to make quick decisions at every turn in what he believes is the most aggressive and physically demanding game plan in the league. Middle-linebacker Carrie Walters and the defensive line of Uli and Maddie McCoy and will be key in containing the powerful Mist running attack while allowing All-Fantasy selection and starting cornerback Tamica Estrella to utilize her speed to cause havoc in the backfield or intercept an errant Rypien pass.
More to Explore
<em>Cirque du Soleil: LUZIA</em>
Stamp & Scrapbook Expo
<em>A Proper Place</em>
<em>The Secret Garden</em>
The Triple Door
<em>Murder for Two</em>