Free Jazz Pioneer Ornette Coleman Performs Live at Royce Hall
Our Price
$31.50 - $41.50*
Ornette Coleman was one of the innovators of the free jazz movement of the 1960s. His groundbreaking contributions and signature keening saxophone sound, which draws heavily on the blues, shaped the future of avant-garde jazz and led to a Pulitzer Prize for Coleman in 2007. Coleman performs live at Royce Hall along with his son Denardo Coleman on drums, and Tony Falanga and Al MacDowell on bass.
* Additional fees apply. No coupon or promo codes necessary to enjoy the displayed discount price.
All offers for Ornette Coleman have expired.
The last date listed for Ornette Coleman was Wednesday November 3, 2010 / 8:00pm.
Most Popular Music Event Nearby
Full Price:

$49.50 - $199.50

Our Price:

$39.50 - $154.50
Put on your most creative Tim Burton-inspired costume and head to the Hollywood Bowl, because… More
View all 255 tips
Reviews & Ratings
Ornette Coleman…is there any other Ornette?
The audience had come to see one of the Great Ones of Jazz, with a capital J. He's played with and against his son Denardo for so many shows they have become masterful collaborators. He's a smooth, fast moving, and light of touch drummer who is playing with not one but two amazing bass players. Anthony Falanga has total mastery of the standup bass, while on the other side of Ornette, sits Al McDowell on the electric bass, which he plays more often like an electric guitar. Only the four keys on the neck can convince you that it's truly a four string bass and not a guitar, as he produces fine sounds along with incredibly fast and complex playing.

Falanga is a virtuoso on the stand up bass, mixing cool grooves, complex duos with his counterpart, and some of the most beautiful bow playing you'll even hear. During the Bach Cello Suite #1, he had the audience hypnotized with true master sounds of a Cello for this great Bach composition. Even Ornette stopped and clapped for his performance. It was the only moment where some of the audience members clapped during any piece, rightly ignoring the usual jazz courtesy of clapping after good solos. No way. But at the end of songs they went wild, almost relieved of the concentration the music demands, but so appreciative of the presence of this band, and the power of the music they were reinventing for us.

I had the pleasure of being seated up high enough to have a clear view of the hands of Denardo. He was truly better when he played faster, and he liked to do that. He was like a top chef behind his 'kitchen' of skins and cymbals, mixing ingredients and sounds at a feverish pace. His smoothness and soft touch of rounded rolls all over the set was a wonder to watch and listen to. There was only one tune with a real solid beat, almost rock like, and Denardo was playing this very simple steady beat, and he looked like a Tiger who was tied up. He wanted to let loose and it seemed as though it took everything he had to keep holding back.

It was a cool breeze when they shifted into blues tune, "Turnaround", after several more complex tunes. They didn't waste any time evolving their notes into a much more interesting inside-out look as they explored the simple blues with their imaginative collaboration. They certainly did that and with a solid groove.

About an hour into the show he brought out a singer to accompany them, Mari Okubo, who had a distinct Soprano vocal interaction with Ornette's sax. It was interesting, I'll give it that. But the lyrics were a bit iffy, and I was disappointed that it didn't get a bit less repetitive. But that man has a way of keeping you off guard, in fascinating ways.

The show then took off when Flea, yes, from Chili Pepper fame, came out (he was on the bill), and proceeded to light the place up with his energy. You could have powered a small town with the energy he was putting out there with his body and certainly with his hands. This was a real step up into the big leagues and he was right there taking no prisoners. He played the rest of the set with the band. The three!, count them, basses really made for another night of Coleman magic. They played back and forth and then just pulled the direction one way and took off during most of the evening. Ornette seemed to get a kick out of his new bass configuration. This performance Coleman was using more repetitive scales than I remember from other shows, but it worked. They encored with a beautiful rendition of "Lonely Woman".

And the man in the very plaid suit…as always…had brought his band and his 80 year old body out there and just killed it for 2 hours. Remarkable…one of few performances that really brought your mind to a place where you felt that you were watching artists paint with music, a feeling that few can pull off, but the Great Ones can. Last night they did, and I'm thankful that I saw Ornette, his plaid suit, and his sax once again .
view

more

less

of this review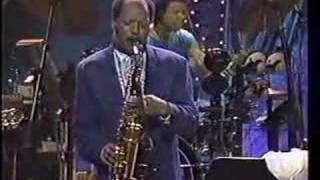 Description
Free jazz pioneer, Pulitzer Prize winner and peerless saxophonist Ornette Coleman has played a major role in the evolution of American music for more than five decades. At the 2009 Festival International de Jazz de Montréal, Coleman became the 16th person to receive the prestigious Miles Davis Award, instituted to honor an international jazz musician for his or her complete body of work and influence. Coleman was instrumental in breaking down jazz conventions in the 1960s, becoming the father of free jazz and returning the medium to its daring, revolutionary roots. Joining him on stage are his son Denardo Coleman on drums, Tony Falanga and Al MacDowell on basses.