Pianist Pablo Ziegler Goes Beyond Tango for Career-Spanning Concert at Symphony Space
Argentinian pianist, composer and master of the nuevo tango genre Pablo Ziegler presents classical renditions of works from each of his eight recordings. An acclaimed Latin jazz innovator, Ziegler will perform at the piano in solo, trio, quartet, quintet and chamber ensemble configurations to deliver a show that takes the audience Beyond Tango. The program's atypical, classical approach will showcase Ziegler's strengths as both a respected composer and a diverse performer.
All offers for Beyond Tango with Pianist Pablo Ziegler have expired.
The last date listed for Beyond Tango with Pianist Pablo Ziegler was Saturday, Apr. 23, 2011 / 8:00pm.
Most Popular Music Event Nearby
Full Price:

$15

Our Price:

COMP - $7.50
For a singer with such powerful pipes, it's something of a shock to hear vocalist Emilie Surtees… More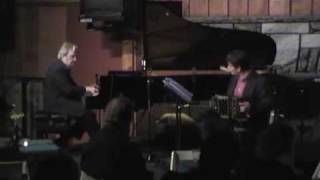 Quotes & Highlights
"A percussive, demonstrative pianist, he has a rigorous command of harmony and a knack for steel-girded ornamentation." —_The New York Times _
"He leads the charge, inflaming the emotions and inciting all those who are fortunate enough to bear witness to his continuing musical charm" —_New York Jazz Report _
Description
Pablo Ziegler, the master of Argentine nuevo tango music, who has dazzled Europe, Japan, Canada, Amsterdam and Turkey with his sultry mix of tango and jazz performances, comes to Symphony Space for a rare concert appearance. This exciting evening with Ziegler at the piano and musicians on bandoneóon, percussion, strings and more, features classical renditions of works from each of his eight stellar recordings.
While Pablo Ziegler is known to the jazz world through his touring to venues such as the Bimhuis in Amsterdam and his annual performances at the Jazz Standard in New York City, the Beyond Tango program focuses on his classical music and involves different instrumentation. For example, the electric guitar is now replaced by cello. The evening progresses from piano solo, through trio, quartet, quintet and finally large chamber ensemble playing mostly Ziegler's compositions, but including some of his own arrangements of the Piazzolla two-piano pieces which he recorded with Emanuel Ax. Don't miss this unforgettable night fusing tango, Latin rhythms and virtuosic improvisation.
Program:
Carlos Gardel: Soledad
Ziegler
Ástor Piazzolla: Michelangelo
Ziegler, Del Curto
Pablo Ziegler: Alrededor del Choclo
Pablo Ziegler: La Fundición
Ziegler, Ok, Del Curto
Pablo Ziegler: La Rayuela
Pablo Ziegler: Bajo Cero
Ziegler, Ok, Del Curto, Giraudo
Pablo Ziegler: Muchacha de Boedo
Ástor Piazzolla: Libertango
Ziegler, Ok, Del Curto, Giraudo, Ozawa
-Intermission-
Pablo Ziegler: Elegante Canyenguito
Ziegler
Pablo Ziegler: Milonga del Adios
Ziegler, Ok
Pablo Ziegler: Buenos Aires Report
Ástor Piazzolla: Chin Chin
Ziegler, Ok, Del Curto, Giraudo
Pablo Ziegler: Places
Ziegler, Ok, Del Curto, Giraudo, Ozawa
Pablo Ziegler: Asfalto
Juan Carlos Cobián: Nostalgias
Pablo Ziegler: Milonga en el Viento
Ástor Piazzolla: Fuga y Misterio
Ziegler, Botti, Barenboim, Burns, Del Curto, Ozawa, Bechtold, Ramirez, Ok, Giraudo, Pinna
More to Explore
The Music of Aretha Franklin & the Ladies of Soul
Architectural Digest Design Show
Demi Lovato & DJ Khaled
Ailey II Dance Company
<em>Gulliver's Gate</em>
Flamenco Festival 2018