Big Dummy: A Heartfelt Comedy About Dads & Daughters
Growing up in Queens, Mary Dimino idolized her dad, a factory worker, but by age 11 she realized she was smarter than him. It took becoming an adult to understand that he was brilliant in his own simple way. In her one-woman show Big Dummy: Me & My Old Man, Dimino recalls her father's simple philosophy on life, which she later described as a cross between Forrest Gump and Aristotle. The comedian also explores her own desire to go to college and avoid the stereotypically female careers of the time. This powerful solo show, now playing at 13th Street Rep, uses humor to discover the heart in a loving family. Dimino is the winner of the 2010 MAC Award for Outstanding Female Comedian and earned the New York International Fringe Festival's Overall Excellence Award for Outstanding Solo Show in 2013.
All offers for Big Dummy: Me & My Old Man have expired.
The last date listed for Big Dummy: Me & My Old Man was Saturday, Jan 30, 2016 / 9:30pm.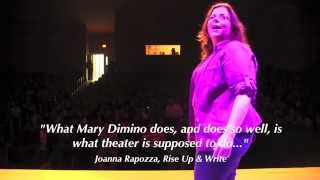 Event Website
Quotes & Highlights
"What sets this show apart is the writing and the execution, which is exceptional." — Theatre Reviews Limited
"Dimino is a natural." — The Wall Street Journal
"Among the best-written and most humane shows to ever grace the Fringe. Enormously enhancing the perfect script is Dimino's lovely down-to-earth, compassionate, and always entertaining delivery. This is the only production of the festival that made me cry. Considering this is a comedy filled with laughs, that's an extraordinary achievement. There are lines – especially near the end – that I'll remember the rest of my life." — Hy Reviews
Description
Running time is 75 minutes.
More to Explore
Quiet Clubbing KidsFest 2018
Brooklyn Outdoor Silent Disco Beer Bash!
Power 105.1 Halloween Costume Yacht Party
The 16th Annual New York Burlesque Festival: <em>The Saturday Spectacular</em>
Central Park Bike Rental
Secaucus Gluten Free & Allergen Friendly Expo