Ted Greenberg's Hit 1-Man Comedy Show The Complete Performer
Now in its eighth smash season at the SoHo Playhouse and a winner of the 2008 Producers Award at FringeNYC,
The Complete Performer
is a bursting-at-the-entertainment-seams comedy extravaganza starring
Late Show with David Letterman
Emmy Award-winning writer Ted Greenberg. The show may include, but is not limited to, improv, mind reading, magic, escape artistry, mascot/puppetry, male burlesque and modern dance. And, as a bonus, one lucky audience group will receive a free licensed cab ride home -- with Greenberg himself behind the wheel!
* Additional fees apply. No coupon or promo codes necessary to enjoy the displayed discount price.
Upcoming Dates & Times
May

1

2

3

4

5

6

7

8

9

10

11

12

13

14

15

16

17

18

19

20
Ted Greenberg
View upcoming dates and read more about Ted Greenberg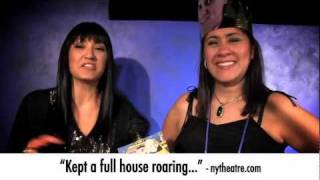 Event Website
Quotes & Highlights
"Outrageously funny." —Backstage
"Greenberg's mostly one-man show is drawing crowds … . A definite off center Letterman skit quality … Goes by both fast and enjoyably." —The New York Times
"Kept a full house roaring." —NYTheatre.com
Description
A mostly one-man comedy show featuring The Late Show with David Letterman's Emmy Award-winning writer Ted Greenberg and his crowd-rousing mascot. Greenberg cracks all entertainment genres (stand-up, mind reading, magic and more) in the hourlong spectacle.
More to Explore
Maxwell: <em>Summers' Tour '17</em>
<em>Cyrano de Bergerac</em>
Stamp & Scrapbook Expo
Taylor & The Apes
Barbra Streisand
Brahms' <em>A German Requiem</em>