Spend a Bloody Valentine's Weekend at Blood Manor's Haunted House
Forget the chocolates and roses and make mayhem the highlight of your Valentine's Day weekend inside Blood Manor -- a first-class haunted attraction with 5,000 square feet of themed rooms, pitch-black corridors and a maze of frightening passageways. It's the perfect opportunity to hold tight to the one you love as you creep your way through the dark, with terror lurking behind every corner. But be warned -- your only chance at true romance is to find your way out through the intense 3-D labyrinth.
All offers for Blood Manor's Bloody Valentine's Weekend have expired.
The last date listed for Blood Manor's Bloody Valentine's Weekend was Admission on Your Choice of Feb 10, 11 or 12, 2017.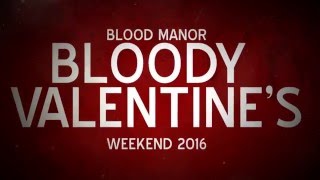 Event Website
Description
Blood Manor is a haunted attraction comprised of approximately 5,000 square feet with a labyrinth of dark corridors, mazes and 16 chambers of terror that will leave you running for your life! Visit at your own risk!
With louder screams, scarier dreams and more thrills for each moment in its fun-filled darkness, Blood Manor makes your nightmares come to life.
Blood Manor is not recommended for children under 14 years of age.
This is a continuous walk-through attraction that takes approximately 20 minutes to complete.
More to Explore
NYC Hot Sauce Expo
<em>Gulliver's Gate</em>
<em>Mean Girls</em> Film Screening
<em>Cinderella</em>
Architectural Digest Design Show
Music at City Winery New York