Nightmare: Fairy Tales -- New York's Most Horrifying Haunted House
Nightmare
is back for another frightening fall run. Touted as a truly terrifying Halloween experience, this haunted house is designed to scare the pants off of the most steeled adult. This year's theme is
Fairy Tales
and
Nightmare
has stayed true the original, un-Disneyfied versions at their most gruesome and horrific. Originally collected by the Grimm Brothers and Aesop, fairy tales were stories of cannibalism, mutilation, murder and suicide designed to scare children into behaving and the
Nightmare
crew brings these evil stories to life. Your visit to
Nightmare: Fairy Tales
concludes with a viewing of
The Experiment
, a 5-D experience where you are the subject.
* Additional fees apply. No coupon or promo codes necessary to enjoy the displayed discount price.
All offers for Nightmare: Fairy Tales have expired.
The last date listed for Nightmare: Fairy Tales was Saturday November 5, 2011 / Various Times.
Most Popular Tours & Cruises Event Nearby
Full Price:

$149

Our Price:

$74.50
Learn the stories behind three of America's most iconic landmarks in this bus tour of Lower… More
Reviews & Ratings
Featured review from Avita
I have been attending Nightmare since they started at CSV, moved to Houston St and back. My favorites are tied between "Bad Dreams" and "Asylum". This year's event was awful and disappointing! The "Fairy Tales" were not played out well and we spent a lot of time trying to figure out who they were trying to portray. The set up was so confusing we kept walking off course and into storage areas. It seemed to be short staff and actors. I almost went home with a potato sack the actors were supposed to take from me. It was very predictable and not like the "Nightmare" I have grown to love. Let's not forget to mention the second half of the event, O boy it was simply ridiculous! Since I usually, absolutely rant, rave and LOVE Nightmare I was very, very disappointed and downright upset. Since I know how hard it is to produce these events, I also know it can be a hit or miss! I hope they redeem themselves next year!
view

more

less

of this review
attended Sep 30 2011
My daughter and I arrived at the Clemente Soto Velez Center at around 7:00 p.m. prior to our appointment of 8:30 p.m. We waited outside on this long line. We did not enter the building until 8:30 p.m. just to get on another long line. After...continued
report as inappropriate
attended Sep 30 2011
this was the worst attraction i have ever been through. was not scary at all. they had a guy with a pantyhose on his head trying to scare people outside.Inside was just wood cut outs and maybe one or 2 people going boo.The 5D experience, you had...continued
report as inappropriate
View All 78 Reviews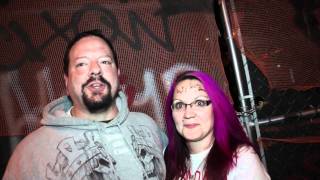 Website
Quotes & Highlights
"Clever, meticulously designed and slyly cast. It works on old anxieties, tweaked just enough to make something new. The most terrifying haunted houses mix the traditional with inventive showbiz intelligence." —New York Times
"Sick. Deliciously, awesomely sick!" —_Time Out New York _
"A brilliantly conceived spookhouse" —_The Village Voice _
Nightmare is AOL Cityguide's No. 1 rated haunted attraction in America.
"This year the theme takes the once happy fairy tales and sickly converts them to horrific and gruesome variations." —TheNYNightLife.com
"A fabulously interactive and varied journey, Nightmare forces visitors to don blindfolds, isolates members of groups for some quality alone time and utilizes seriously cool puppetry in addition to the physical performers." —_Fangoria _
Description
In what is perhaps the most stylistic _Nightmare _to date, this year's theme is Fairy Tales. Under the direction of Creator and Co-Director Timothy Haskell, _Nightmare: ___Fairy Tales __stages the original versions of well-known (and some lesser known) fairy tales at their most gruesome and horrific. Over the centuries many of these fables have evolved into sanitized entertainment for children, but they began as racy and violent tales intended to keep children from misbehaving.
Get lost in a dark forest and wander through the woods while becoming the characters and reliving the terrifying experiences extracted from over a dozen twisted stories handed down by The Brothers Grimm, Aesop, Hans Christian Andersen and more. Try and stay on the path as you go from cottage to cottage – each housing a familiar tale told in the way they were intended – to scare the wits out of you! Each cottage gets more and more intense until you reach the climactic conclusion. Then you have to find your way home. Be careful, though, there are hidden cottages to explore.
"The original purpose for virtually all fairy tales was to scare children straight, so they wouldn't do anything dangerous, bad or amoral," says co-director and creator Timothy Haskell. "We are going to teach those same lessons to our audiences! The narratives of the Fairy Tales chosen lend themselves to Nightmare's unique theatricality, while giving opportunities for fantastical scenarios and set pieces."
Another component to this year's Nightmare will be a sensory assaulting 5-D theater experience called __The Experiment __created and directed by John Harlacher and Timothy Haskell. Unlike year's past where the second event was a much smaller prelude to the main event, __The Experiment __is actually Full-on, every bit as satisfying and experiential as the haunted house. Experienced from your chair in a small lab, you are a subject in a case study for research on the threshold of fear.
<em>The New York Times Travel Show</em>
Museum of Sex
Master Illusionist Miles Thorn
<em>Exhibitionism -- The Rolling Stones</em>
<em>Sesame Street Live: Make A New Friend</em>
Lakeside Brooklyn Ice Skating
Ice Skating at Aviator Sports and Events Center