Musiq Soulchild, Keyshia Cole, Jon B & Portrait
Make your way to The Amp at Craig Ranch Park in Las Vegas for the second annual Soulful Summer Nights concert -- an evening of music from some of R&B's finest. Grammy-nominated, platinum-selling, neo-soul star Musiq Soulchild's smooth grooves have landed him at the top of the charts, as well as in the recording booth with some of the industry's biggest stars. Breaking through in 2000 with the hit single "Love," he then followed up with "Halfcrazy," "B.U.D.D.Y.," "So Beautiful" and more. One of the most powerful and intriguing voices in R&B, Keyshia Cole is a multifaceted star known for her hit records, ever-changing look and for starring in several of her own BET reality shows. Cole first shook up the charts in '05 with her debut disc, The Way It Is, a platinum-selling monster that spawned five singles. She followed that up with popular albums like Just Like You, The Way It Is, Woman to Woman and 2014's Point of No Return. This soulful show will also feature performances from platinum-selling artist Jon B ("They Don't Know") and Portrait ("Here We Go Again!").
Turn any event into a gift that's…
Exchangeable
Festively wrapped
Can be sent via email or mail
Experiences that create memories make the greatest gifts.
Upcoming Dates & Times
June

1

2

3

4

5

6

7

8

9

10

11

12

13

14

15

16
Jon B.
View upcoming dates and read more about Jon B.
Keyshia Cole
View upcoming dates and read more about Keyshia Cole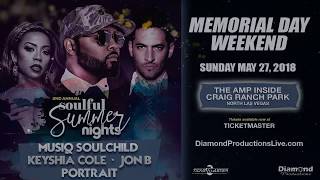 Event Website
Description
Artist lineup is subject to change.
Preferred tickets include early entry into amphitheater, terrace area grass (you're closer to stage), and express bar access
No Re-entry.
No chairs taller than 3 feet.
No coolers.
No canopies or easy ups.
No large umbrellas.
No smoking in seating sections.
No weapons.
No outside food or beverages.
No video cameras.
No professional DSLR cameras.
More to Explore
AMC Yellow Tickets
MANILOW: Las Vegas
<em>Soulful Summer Nights</em>: Musiq Soulchild, Keyshia Cole & More
Spiegelworld's <em>Opium</em>
Sugar Brown Presents: <em>Burlesque Bad & Bougie Comedy</em>
Monster Energy Cup