Close-Up Card Tricks & Comedy in Sebastian's Intimate Miracles
You could probably spot a magician's tricks up close, right? Get ready for Sebastian's
Intimate Miracles
to prove you wrong. No matter how closely you look, you won't believe your eyes as the renowned sleight-of-hand artist makes the impossible happen right in front of your face. Presented in the classic parlor style,
Intimate Miracles
features Sebastian engaging the audience through both volunteer participation and his comedy-laced patter, while demonstrating jaw-dropping up-close card tricks. Prepare to be both impressed and entertained at the Red Spade Theater in San Diego's famed Old Town.
* Additional fees apply. No coupon or promo codes necessary to enjoy the displayed discount price.
Reviews & Ratings
Red Velvet
Having witnessed his performances several times in the past, I was aware that he is a talented magician; however, until seeing this extremely close-up show I never realized how truly amazing the "Amazing Sebastian" really is! In his new space, less a conventional theater than a cozy single room, Sebastian demonstrates sleight-of-hand magic with such skill and confidence he even has two audience members, one on his left and one on his right, watching him in extreme-close-up and participating in his magic. (I was fortunate enough to be one of the participants.) He also has a camera focused on the table with a large screen showing the rest of the audience exactly what is happening so no one can miss any detail. While many magicians use scantily clad assistants to distract the audience or have ringers posing as helpers "chosen randomly," Sebastian not only allows scrutiny, he encourages it. He is the real deal, not flashy or gimmicky, just an amazingly accomplished magician who will astound you with his skill and leave you wondering long afterward just how he accomplished those magnificent, up-close illusions. Spellbinding and highly watchable!
view

more

less

of this review
attended May 26 2012
The magic show itself was great, but the seating was not well organized. There were 4 of us, and we arrived at 7:15, 45 min before the show to get good seats. The doors were locked and it was dark inside, so we shopped around for a few minutes....continued
report as inappropriate
attended Oct 28 2011
This was a micro venue and incredible slight of hand card tricks. Worth the price of admission. If you want to see magic up close and personal this is the place to go. Sebastian is marvelous.
report as inappropriate
attended Nov 25 2011
This guy is one of the best I have ever seen and I have seen them all at the Magic Castle over the years of being a member there. The room in which the show takes place in must be reconfigured so everyone can see the magician perform and not have...continued
report as inappropriate
View All 173 Reviews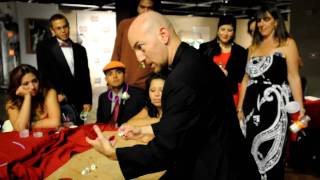 Description
Run time is approximately 90 minutes.
<em>Intimate Miracles</em>
<em>Mysteries of Mindreading and Magic</em>
Hershey Felder in <em>Our Great Tchaikovsky</em>
<em>Bad Jews</em>
<em>The Wiz</em>
<em>Disney On Ice presents Worlds of Enchantment</em>
San Diego Travel & Adventure Show
Circus Vargas: <em>Steam Cirque</em>
Circus Vargas: <em>Steam Cirque</em>