Close-Up Card Tricks & Comedy in Sebastian's Intimate Miracles
Oscar Wilde said it best: "Illusion is the first of all pleasures." No matter how closely you look, you won't believe your eyes as San Diego's top performing sleight-of-hand artist Sebastian makes the impossible happen right in front of your face. Presented in the classic parlor style, Intimate Miracles features Sebastian engaging the audience through both volunteer participation and his comedy-laced patter, while demonstrating jaw-dropping up-close card tricks. Prepare to be both impressed and entertained at the Red Spade Theater's flagship show, Intimate Miracles, in Old Town.
All offers for Intimate Miracles have expired.
The last date listed for Intimate Miracles was Saturday, May. 27, 2017 / 8:00pm.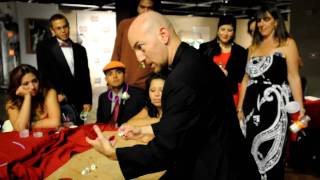 Event Website
More to Explore
<em>Air + Style</em>
29th Annual Mariachi USA Festival
<em>Cirque du Soleil Crystal</em>
BrunchCon
<em>The Full Monty</em>
Circus Vargas: <em>Dreaming of Pirates</em>