Gray Whale Watching Boat Trips Off the Coast of San Diego
Each winter, pods of California Gray Whales pass by San Diego on their annual migration south to the warm lagoons of Baja. During the spring, they return to their summer home of Alaska and the Bering Sea, passing through Southern California's waters again. H&M Landing offers the opportunity to see these majestic mammals, along with various other forms of marine life, live and up-close on this tour off the coast of San Diego. The trip includes an informative narrative about the whales and their migration. The boats are equipped with indoor and outdoor seating and a galley lounge complete with hot food and beverage service.
All offers for Whale Watching Trips have expired.
The last date listed for Whale Watching Trips was Sunday, Mar. 26, 2017 / 9:00am.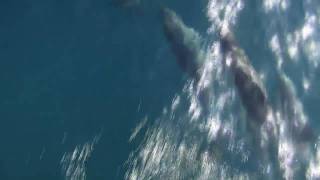 Event Website
Description
All trips include informative narration on whales, their migration and the other marine life and sights you will see on your cruise. H&M's fleet of whale-watching vessels are built for the open sea. Spacious, safe and comfortable, they provide outdoor and indoor seating, galley lounges with hot food and beverage service.
It is recommended that you dress in layers.
All boats offer snacks and beverages for sale on board, although you are welcome to bring your own. Ice chests, coolers and alcohol are not permitted.
Tours run approximately three hours in the winter and four hours in the spring.
More to Explore
Oscar Wilde's <em>The Importance of Being Earnest</em>
<em>Tanked Live</em>
<em>Songs for a New Year</em>
29th Annual Mariachi USA Festival
<em>Safa's Story</em>
<em>Air + Style</em>