RocketBoat: The Ultimate High-Speed Adventure on San Francisco Bay
RocketBoat is a high-speed, 30-minute thrill ride on San Francisco Bay. Roaring past the beautiful San Francisco skyline, RocketBoat screams down to Bay Bridge and near AT&T Park, where you'll thrill to the high-speed twists and turns, propelled by the boat's 2800-horsepower engines. A classic rock 'n' roll soundtrack adds to the fun. If you want to get wet, sit toward the back. You'll stay a bit drier if you sit in the middle or the front of the vessel. Wet or dry, this ride is fast and fun.
* Additional fees may apply. For events with a discounted price, no coupon or promo code is necessary to purchase tickets.
Turn any event into a gift that's…
Exchangeable
Festively wrapped
Can be sent via email or mail
Experiences that create memories make the greatest gifts.
Upcoming Dates & Times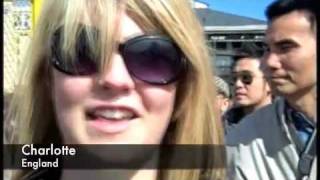 Description
Strap yourself into Rocketboat, the fastest and most nimble watercraft on San Francisco Bay. For 30 minutes, you'll be flying across the Bay under the steady hand of one of our able captains while jammin' to a great rock and roll soundtrack. Rocketboat runs seasonally May through October from PIER 39. Cruises may not operate during inclement weather. Never the same ride twice.
More to Explore
Paula Poundstone
Grand National Livestock Exposition, Horse Show & Rodeo
<em>The Speakeasy</em>
<em>Baloney</em>
California Golden Bears Football
San Francisco Bay Cruise Adventure