Christmas Is a Drag With The Golden Girls
Take 4 talented drag performers, cast them in two new Xmas episodes of the uproariously funny TV show The Golden Girls and you have an assured night of theater for the entire family. Now a yearly tradition, this loving tribute to the characters the entire world has come to know and love features local drag stars Heklina (Dorothy), Matthew Martin (Blanche), D'Arcy Drollinger (Rose), and Holotta Tymes (Sophia). Prepare yourself for Blanche's sexy antics, Sophia's cutting wit, Dorothy's consternation, Rose's endearing stupidity and lots of beefy shoulder pads, at the Victoria Theatre. No matter the season, nothing warms your heart -- or keeps you laughing -- like the Golden Girls.
Select Your Date
December

11

12

13

14

15

16

17

18

19

20

21

22

23

24

25

26

27

28

29

30

31
Reviews & Ratings
"The Golden Girls: The Christmas Episodes"
Red Velvet
Best show ever! This is a must see. The queens add so much to already strong scripts and characters. This has now officially become my favorite holiday tradition!
view

more

less

of this review
attended Dec 05 2013
Lots of fun and great crowd. The only thing that was a bit annoying was the commercials between scenes! I never watch live TV so I do not have to watch the so do not want to pay and have them forced on me even though they were from the period or...continued
report as inappropriate
attended Dec 05 2013
This show was fun and hysterical! Loved the performances as well as the commercials in between set changes. Great way to kick off the holiday season!
report as inappropriate
attended Dec 10 2015
A delightful re-enactment of The Golden Girls: The Christmas episodes at Victoria Theater, a la drag! Who would have thought those queens are going to upstage the original show?!
report as inappropriate
View All 35 Reviews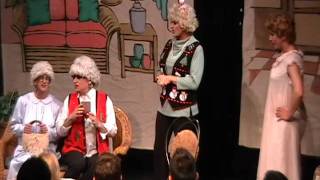 Quotes & Highlights
"A snazzy quartet of the Bay Area's finest drag queens puts the icing … on the Hostess Cupcake."—SF Bay Guardian
Description
Episode 1 – "What a Difference a Date Makes"
The man who stood Dorothy up for her senior prom contacts her and they make a date for the Christmas dance. After learning why he stood her up, Dorothy unleashes her wrath on the person at fault, Sophia. Meanwhile, Blanche goes on a diet in order to keep with her tradition of annually fitting into her wedding dress.
Episode 2 – "Girls Just Wanna Have Fun … Before They Die"
It's the Holiday Season and both Sophia and Rose take advice from Blanche that lands each of them in hot water. Due to an unseasonal drought in St. Olaf, Rose swears to be celibate and Blanche advises her not to tell Miles the truth. While Sophia takes Blanche's tips to lure a man to bed but when she tells him she loves him, he doesn't respond how she hoped.
Running time is two hours.
<em>Silence! The Musical</em>
Disney's <em>The Lion King</em>
<em>Cirque du Soleil: LUZIA</em>
<em>Beach Blanket Babylon</em>
<em>A Christmas Carol</em>
Yoshi's Oakland
WinterFest at California's Great America
Alex Ramon's <em>IMpossible</em>
Oakland Athletics vs. San Francisco Giants: Preseason Baseball
<em>Irving Berlin's White Christmas</em>
Smuin's <em>The Christmas Ballet</em>