Paint Parties With BrushCapades Seattle
Whether you're a budding Picasso or simply want to be more creative and adventurous, this class will help you capture some of the beauty of Seattle and the surrounding area -- whether it be Pike Place, spring blossoms or the city skyline -- on canvas. All the art supplies you'll need will be provided for you by BrushCapades Seattle. And artist and improv comic Anjl will lead you step-by-step through the process of creating your masterpiece during this two-hour lesson. This laid-back class is a blast, with friends, on a date or on your own. Plus, it's BYOB, so bring whatever fuels your creativity!
* Additional fees may apply. For events with a discounted price, no coupon or promo code is necessary to purchase tickets.
Turn any event into a gift that's…
Exchangeable
Festively wrapped
Can be sent via email or mail
Experiences that create memories make the greatest gifts.
Upcoming Dates & Times
October

7

8

9

10

11

12

13

14

15

16

17

18

19

20

21

22

23

24

25

26

27

28

29

30

31
November

1

2

3

4

5

6

7

8

9

10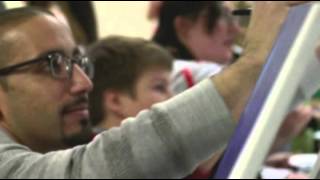 Event Website
More to Explore
Regal Cinemas ePremiere Movie Tickets
<em>Parallel Universe</em>
<em>Seattle Bride</em>'s Urban Unveiled 2018
Disney's <em>Newsies</em>
Seattle Mariners Baseball
Make Your Own Seahawks Logo