The Canyon Agoura Hills
28912 Roadside Drive
Agoura Hills
CA
91301
Venue Images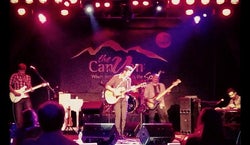 The Canyon Agoura Hills Tickets and Event Schedule
Friday, Oct 26, 2018 / 10:00pm (Doors Open at 6:00pm)

Saturday, Oct 27, 2018 / 10:00pm

Thursday, Nov 1, 2018 / 7:30pm (Doors Open at 6:00pm)

Friday, Nov 2, 2018 / 9:00pm (Doors Open at 6:00pm)

Saturday, Nov 3, 2018 / 9:00pm (Doors Open at 6:00pm)

Friday, Nov 9, 2018 / 9:00pm (Doors Open at 6:00pm)

Sunday, Nov 11, 2018 / 9:00pm (Doors Open at 6:00pm)

Thursday, Nov 15, 2018 / 9:00pm (Doors Open at 6:00pm)

Friday, Nov 16, 2018 / 9:00pm (Doors Open at 6:00pm)

Saturday, Nov 17, 2018 / 9:00pm (Doors Open at 6pm)

Wednesday, Nov 21, 2018 / 10:00pm (Doors Open at 6:00pm)

Friday, Nov 23, 2018 / 9:00pm (Doors Open at 6:00pm)

Saturday, Nov 24, 2018 / 9:00pm (Doors Open at 6:00pm)

Thursday, Nov 29, 2018 / 9:00pm

Friday, Nov 30, 2018 / 9:00pm (Doors Open at 6:00pm)

Thursday, Dec 6, 2018 / 9:00pm

Friday, Dec 7, 2018 / 9:00pm (Doors Open at 6:00pm)

Saturday, Dec 8, 2018 / 9:00pm (Doors Open at 6:00pm)

Friday, Dec 14, 2018 / 9:00pm (Doors Open at 6:00pm)

Saturday, Dec 15, 2018 / 9:30pm (Doors Open at 6:00pm)

Thursday, Dec 20, 2018 / 9:00pm (Doors Open at 6:00pm)

Friday, Dec 21, 2018 / 9:00pm (Doors Open at 6:00pm)

Saturday, Dec 22, 2018 / 10:00pm (Doors Open at 6:00pm)

Friday, Dec 28, 2018 / 9:00pm (Doors Open at 6:00pm)

Saturday, Dec 29, 2018 / 9:00pm (Doors Open at 6:00pm)

Sunday, Dec 30, 2018 / 9:00pm (Doors Open at 6:00pm)

Monday, Dec 31, 2018 / 10:00pm (Doors Open at 6:00pm)

Friday, Jan 4, 2019 / 9:00pm

Saturday, Jan 5, 2019 / 9:00pm (Doors Open at 6:00pm)

Tuesday, Jan 8, 2019 / 9:00pm (Doors Open at 6:00pm)

Thursday, Jan 10, 2019 / 9:00pm (Doors Open at 6:00pm)

Friday, Jan 11, 2019 / 9:00pm (Doors Open at 6:00pm)

Thursday, Jan 17, 2019 / 9:00pm (Doors Open at 6:00pm)

Sunday, Jan 20, 2019 / 8:00pm (Doors Open at 6:00pm)

Friday, Jan 25, 2019 / 9:00pm (Doors Open at 6:00pm)

Thursday, Feb 7, 2019 / 9:00pm (Doors Open at 6:00pm)

Friday, Feb 8, 2019 / 9:00pm (Doors Open at 6:00pm)

Sunday, Feb 10, 2019 / 9:00pm (Doors Open at 6:00pm)

Thursday, Feb 14, 2019 / 10:00pm (Doors Open at 6:00pm)

Friday, Feb 15, 2019 / 9:00pm (Doors Open at 6:00pm)

Thursday, Mar 21, 2019 / 9:00pm (Doors Open at 6:00pm)

Sunday, Apr 28, 2019 / 9:00pm (Doors Open at 6:00pm)
Accessibility
Accessible or ADA seating may be available. Please contact us before buying tickets to make arrangements.
Advisories
Guests age 17 or younger must be accompanied by an adult. For Brunch shows: Children under the age of 3 who do not require their own seat do not need a ticket.
1,399 The Canyon Agoura Hills Tips
Unless they lower prices to a reasonable amount...show up...liquored up...
We were asked to pay extra just to sit at a table, so we went to another bar for food/drink then came back at 9.00 for the show.
$10 for a can of beer is way too much, there are some great bars less than 100 feet from the door.
DO NOT EAT AT THE CANYON CLUB! Not only does is the food bad, it's pricey, and here is something you should know. If you buy dinner, they put tables in the center of the dance floor. If you don't reserve those tables, it is highly likely that you will be able to get thisclose to the performers. I prefer a GA situation, and it has only been in the last few years that they've done tables on the floor. Those reserved seats are not guaranteed yours, and you pay extra (at least 2-3 times the regular GA price) for the privilege of being smashed together with other people. Trust me, save yourself a $200+ night, eat somewhere else and pay $25 for a ticket, not $75-$100.
The English Beat Featuring Dave Wakeling
No draft beer, cans $10 to $12. Have a drink at the bar next door.
Drinks at the Canyon are vastly overpriced. Really looks tacky seeing canned beer in a supper club and they want $10 for ordinary beer.
I wore A nice pair of jeans and a casual dress top. Casual dress is sufficient..
Parking Near The Canyon Agoura Hills
Click to View Interactive Map
Nearby Venues in Los Angeles
Top Events at The Canyon Agoura Hills
Recent Events at The Canyon Agoura Hills