Angel Stadium of Anaheim
2000 Gene Autry Way
Anaheim
CA
92806
Venue Images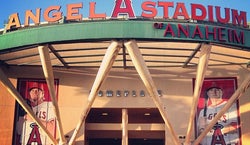 Accessibility
Accessible or ADA seating is not available at this venue through Goldstar.
Advisories
Children ages 2 and over must have a ticket. If you need to change the name your tickets are being held under at will-call, please contact help@goldstar.com and provide the new name of the person who will pick up the tickets. If a name change request is received less than 48 hours before the event's listed start time, we can't guarantee the change will be made. ADA seating cannot be guaranteed for this event.
1,155 Angel Stadium of Anaheim Tips
Park in lot

3

Parking is expensive

2

Parking is a breeze

2
Food and drinks for purchase

4

Dine before you go

2

No food allowed

1
I wore definitely need to wear ear protection!.
Monster Jam
Old Town Orange is minutes away with plenty of shops, restaurants, etc...
We took chips and borritos from Los Golondrinas into the show, and bought 2 beers for $28. At the venue....yikes!
Get there early to park, traffic avoidance etc. DO NOT leave when everyone else is, hang out for 30-45 mins then leave via State college exit. Unless you have little ones... it's not worth the road rage to try and get out with the rush.
The weather was Normal California Santa Ana night. No wind. . I wore Jeans long sleeve shirt.. perfect. .
Park near an exit to avoid traffic jam in the parking lot.
Oakland Athletics vs. Los Angeles Angels of Anaheim, With Mike Trout Flic Motion Card
You can bring in outside food in a small bag or soft cooler.
Oakland Athletics vs. Los Angeles Angels of Anaheim, With Mike Trout Flic Motion Card
Parking Near Angel Stadium of Anaheim
Click to View Interactive Map
Nearby Venues in Orange County
Top Events at Angel Stadium of Anaheim
Recent Events at Angel Stadium of Anaheim