Los Angeles County Arboretum & Botanic Garden
301 North Baldwin Ave.
Arcadia
CA
91007
Venue Images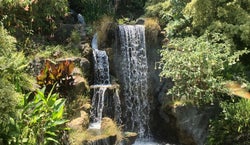 Los Angeles County Arboretum & Botanic Garden Tickets and Event Schedule
Saturday, Jun 1, 2019 / 8:30pm (Crazy Rich Asians)

Saturday, Jun 15, 2019 / 7:00pm

Saturday, Jun 22, 2019 / 7:30pm
Accessibility
Accessible or ADA seating is regularly available. Contact us after buying tickets by replying to your confirmation email to make arrangements.
There is a drop-off area for people with disabilities in front of the main entrance. The paths are asphalt, hard dirt and grass.
Advisories
Parking at the Arboretum is free.
491 Los Angeles County Arboretum & Botanic Garden Tips
Parking is free

9

Shuttle to/from lot

9

Arrive early

7
Food and drinks for purchase

6

Pack a picnic

4

Dine before you go

3
The weather was very cold!. I wore a warm sweater and comfortable shoes to walk!.
The weather was Very cold. I believe it was low 40s. Bring a winter coat, gloves, scarves, knit cap. Possibly even wear some thermal pants because being outside for a while, your body temperature lowers and you can feel really cold . I wore Jeans, beanie, gloves, hoodie, jacket and scarf. Even with all that, I still felt cold after being outside for 3 hours.
The weather was It's very cold at night, so bundle up!. I wore layered 2 coats on top of a sweater plus wore knitted gloves..
The weather was Cold. I wore Warm, comfy shoes. .
Moonlight Forest — Lantern Art Festival at the Los Angeles Arboretum
The weather was cold.. I wore beanie, scarf, layers, jeans, and boots. And add glow neckwear to your kids to make them easy to find especially if you go in a big group. .
Limited food variety and lines are long, so best to eat before you go.
Last show parking was easy.
Moonlight Forest — Lantern Art Festival at the Los Angeles Arboretum
Nearby Venues in Los Angeles
Top Events at Los Angeles County Arboretum & Botanic Garden
Recent Events at Los Angeles County Arboretum & Botanic Garden