The ARK at Signature Theatre
4200 Campbell Avenue
Arlington
VA
22206
Venue Images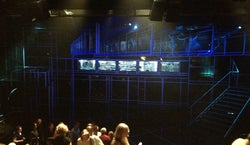 Accessibility
Accessible or ADA seating may be available. Please contact us before buying tickets to make arrangements.
Advisories
Late comers will be seated at the discretion of the House Manager.
The ARK at Signature Theatre Tips
The weather was miserably cold. I wore nice jeans and a sweater. I expected the theater to be freezing since it was about 10 degrees outside but it was surprisingly comfortable..
Dining is available right next to the theatre in Shirlington, and there is a bar at the theatre for a quick drink before curtain.
Parking Near The ARK at Signature Theatre
Click to View Interactive Map
Nearby Venues in Washington, D.C.
Top Events at The ARK at Signature Theatre
Recent Events at The ARK at Signature Theatre