Cobb Energy Performing Arts Centre
2800 Cobb Galleria Parkway
Atlanta
GA
30339
Venue Images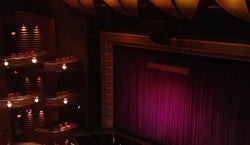 Cobb Energy Performing Arts Centre Tickets and Event Schedule
Tuesday, Nov 6, 2018 / 7:30pm

Saturday, Nov 10, 2018 / 8:00pm
Accessibility
Accessible or ADA seating may be available. Please contact us before buying tickets to make arrangements.
About Cobb Energy Performing Arts Centre
Located in northwest Atlanta, the Cobb Energy Centre is the city's leading venue for touring Broadway shows, ballet, concerts, opera and family performances. The 2,750-seat theater, which features understated red and gold accents and dark wood finishes, is home to the Gas South Broadway Series, the Atlanta Opera and Atlanta Ballet, and also plays host to top comedians like Bill Cosby, Bill Maher and Jim Gaffigan, along with musical acts like Alice Cooper, Harry Connick Jr. and Norah Jones. Fans of AMC's "The Walking Dead" may also recognize Cobb Energy Centre's futuristic facade as a stand-in for Atlanta's post-apocalyptic Center for Disease Control and Prevention.
Advisories
Latecomers must remain in the lobby until intermission.
327 Cobb Energy Performing Arts Centre Tips
Casual

4

Festive

2

Dressy

1
Park in lot

1

Parking is a breeze

1

Parking is cheap

1
The weather was The weather was cool. People were casual and dressy but mostly casual. . I wore Dressy casual sweater with leggin pants. .
Bring cash for parking. It cost $6
The weather was HOT. I wore A linen outfit - pants and shirt..
The weather was cool. I wore slacks and blouse.
Will Downing's Soulful Sounds of Christmas
A bottle of water is costly at $5.00 each for 8 oz. Next time I'll just chew gum.
Atlanta Lyric Theatre's Cats
Parked behind Toys are us and a quick walk across the street and we weren't towed.
Atlanta Lyric Theatre's Cats
The weather was Warm. I wore Summer casual dress and sandals. Brought a sweater just in case it would be cool in the theater..
Atlanta Lyric Theatre's Cats
Parking Near Cobb Energy Performing Arts Centre
Click to View Interactive Map
Top Events at Cobb Energy Performing Arts Centre
Recent Events at Cobb Energy Performing Arts Centre