Synchronicity Theatre
1545 Peachtree Street NE
Suite 102
Atlanta
GA
30309
Venue Images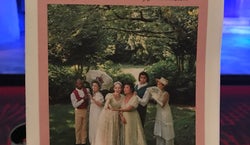 Synchronicity Theatre Tickets and Event Schedule
Monday, Jun 17, 2019 / 8:00pm

Wednesday, Jun 19, 2019 / 8:00pm

Thursday, Jun 20, 2019 / 8:00pm

Friday, Jun 21, 2019 / 8:00pm

Saturday, Jun 22, 2019 / 8:00pm

Sunday, Jun 23, 2019 / 5:00pm

Wednesday, Jun 26, 2019 / 8:00pm

Thursday, Jun 27, 2019 / 8:00pm

Friday, Jun 28, 2019 / 8:00pm

Saturday, Jun 29, 2019 / 8:00pm

Sunday, Jun 30, 2019 / 5:00pm
Accessibility
Accessible or ADA seating may be available at this venue through Goldstar. Contact us before buying tickets to make arrangements.
Advisories
There is no late seating.
15 Synchronicity Theatre Tips
Parking is expensive

1

Parking is a breeze

1
Food and drinks for purchase

1
Parking in deck in same building as the theater is only $5 if u bring your parking tkt into theater for validation! Also Tavern Pointe restaurant is in the same building for a bite after the show.
The weather was Friday Night is Jammie Night!. I wore Fun for the whole family! Just do it!.
If you park in the garage behind the theatre, remember to bring your parking ticket in. They validate!
The weather was A bit nippy. I wore Dress warmly, it was a little cold in the theater..
The restaurant on site, Tavernpointe, is a great spot for dinner before the show.
Nell Gwynn
The weather was freezing inside the theater. I wore Bring a jacket or sweatshirt with a hoodie and a blanket. This theater is always very cold - uncomfortably so..
The weather was Sunny. I wore I wore slacks and my son a nice shirt and good jeans. Because many (Female)participants were from Liberia, they wore beautiful ethnic dresses!.
Top Events at Synchronicity Theatre
Recent Events at Synchronicity Theatre