Bikinis Sports Bar & Grill
214 E. 6th St.
Austin
TX
78701
On Sixth Street
Venue Images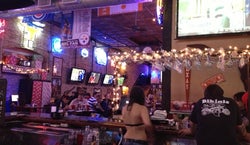 Accessibility
Accessible or ADA seating may be available at this venue through Goldstar. Contact us before buying tickets to make arrangements.
Advisories
You must be 21 years of age or older to attend this event.
Top Events at Bikinis Sports Bar & Grill
Recent Events at Bikinis Sports Bar & Grill