Berkeley Playhouse
2640 College Avenue
Berkeley
CA
94704
Venue Images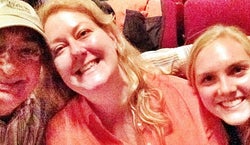 Berkeley Playhouse Tickets and Event Schedule
Friday, Nov 23, 2018 / 1:00pm

Friday, Nov 23, 2018 / 7:00pm

Saturday, Nov 24, 2018 / 1:00pm

Saturday, Nov 24, 2018 / 7:00pm

Friday, Nov 30, 2018 / 7:00pm

Saturday, Dec 1, 2018 / 1:00pm

Saturday, Dec 1, 2018 / 7:00pm

Friday, Dec 7, 2018 / 7:00pm

Saturday, Dec 8, 2018 / 1:00pm

Saturday, Dec 8, 2018 / 7:00pm
Accessibility
Accessible or ADA seating may be available. Please contact us before buying tickets to make arrangements.
About Berkeley Playhouse
Photo: https://flic.kr/p/GJrsYP
344 Berkeley Playhouse Tips
Street parking only

3

Arrive early

2

Parking is scarce

2
Food and drinks for purchase

3

Dine before you go

1
leave yourself a lot of time for street parking.
Dreamgirls
There were a variety of restaurants available four short blocks away by walking.
We ate at the Ethiopian restaurant on Telegraph at Ashby...delicious and a short drive to the theater.
La Méditerranée about 10 blocks away - park between the venue and the restaurant - if you do that you get free parking rather than the meters by the restaurant!
Ragtime
Took BART on final leg of trip and enjoyed a 25 minute walk to theater.
The Elmwood has several good restaurants within walking distance of the theater. Parking can be a bit tricky so plan accordingly.
So many close-by eateries from which to choose!
To Kill A Mockingbird
Parking Near Berkeley Playhouse
Click to View Interactive Map
Nearby Venues in Oakland / East Bay
Top Events at Berkeley Playhouse
Recent Events at Berkeley Playhouse