Bloomington Center for the Arts - Black Box Theater
1800 W. Old Shakopee Rd.
Bloomington
MN
55431
Near the intersection of 98th Street and Logan Ave S
Venue Images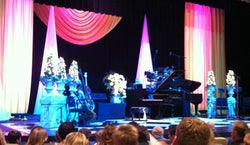 Accessibility
Accessible or ADA seating may be available. Please contact us before buying tickets to make arrangements.
This facility is fully wheelchair accessible and wheelchairs are available for use on site.
Advisories
There is no late seating.
28 Bloomington Center for the Arts - Black Box Theater Tips
Parking Near Bloomington Center for the Arts - Black Box Theater
Click to View Interactive Map
Nearby Venues in Minneapolis-St. Paul
Top Events at Bloomington Center for the Arts - Black Box Theater
Recent Events at Bloomington Center for the Arts - Black Box Theater