Berklee Performance Center
136 Massachusetts Ave.
Boston
MA
02115
Located in Boston's historic Back Bay
Venue Images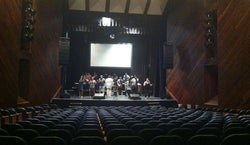 About Berklee Performance Center
image By John Phelan (Own work) [CC-BY-3.0 (http://creativecommons.org/licenses/by/3.0)], via Wikimedia Commons
Advisories
Shows are generally recommended for people 5 years of age or older. Late seating is at the discretion of house management.
38 Berklee Performance Center Tips
Try a bite @ King's before or after the show.........
Dreamgirls
Park at the Dalton Street garage right around the corner - Berkeley will validate.
Dreamgirls
Dress code was anything goes! Jeans or evening dress.
Tango Lovers
We parked under the Christian Science Center, great place, clean, safe, very close to venue, and only cost us $12.
Tango Lovers
You can get off at Hynes Convention Center and walk over
Paco Peña Flamenco Dance Company
Casual and Comfortable clothing I would suggest.
Paco Peña Flamenco Dance Company
Can't bring food into theatre
Top Events at Berklee Performance Center
Recent Events at Berklee Performance Center