Calderwood Pavilion at the Boston Center for the Arts
527 Tremont Street
Boston
MA
02116
between Berkeley & Clarendon Streets
Venue Images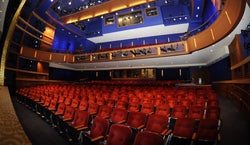 Calderwood Pavilion at the Boston Center for the Arts Tickets and Event Schedule
Tuesday, Mar 26, 2019 / 7:30pm

Wednesday, Mar 27, 2019 / 7:30pm

Thursday, Mar 28, 2019 / 7:30pm

Friday, Mar 29, 2019 / 8:00pm

Sunday, Mar 31, 2019 / 7:00pm

Saturday, Apr 20, 2019 / 8:00pm (Preview)

Sunday, Apr 21, 2019 / 7:00pm (Preview)

Tuesday, Apr 23, 2019 / 7:30pm (Opening Night)

Thursday, Apr 25, 2019 / 7:30pm

Friday, Apr 26, 2019 / 8:00pm

Saturday, Apr 27, 2019 / 3:00pm

Saturday, Apr 27, 2019 / 8:00pm

Sunday, Apr 28, 2019 / 3:00pm

Thursday, May 2, 2019 / 7:30pm

Friday, May 3, 2019 / 8:00pm

Friday, May 3, 2019 / 8:00pm (ASL Interpretation)

Saturday, May 4, 2019 / 4:00pm

Saturday, May 4, 2019 / 8:00pm

Saturday, May 4, 2019 / 3:00pm

Saturday, May 4, 2019 / 8:00pm

Sunday, May 5, 2019 / 3:00pm

Sunday, May 5, 2019 / 3:00pm (ASL Interpretation)

Wednesday, May 8, 2019 / 7:30pm

Thursday, May 9, 2019 / 7:30pm

Thursday, May 9, 2019 / 7:30pm

Friday, May 10, 2019 / 8:00pm

Saturday, May 11, 2019 / 3:00pm

Saturday, May 11, 2019 / 8:00pm
Accessibility
Accessible or ADA seating may be available at this venue through Goldstar. Contact us before buying tickets to make arrangements.
357 Calderwood Pavilion at the Boston Center for the Arts Tips
Take public transit

4

Street parking only

1

Parking is scarce

1
THE BUTTERY WAS PERFECT, COZY. FRIENDLY, MY KIND OF MENU! all was delicious.
Tons of great restaurants nearby. Highly recommend 'Stephi's Place' a block or so from the BCA complex/Boston. Dine outdoors if weather permits.
If you have trouble with stairs, book a seat in the first row.
lots of places close by to eat Stephi's on Tremont always a good choice!
There's an excellent Indian place just down the block- Mela.
Cabaret
The weather was Cold and rainy..
8 minute walk from Back Bay Station...even on a cold, wintery day it was a lovely walk thru the south end!
Top Events at Calderwood Pavilion at the Boston Center for the Arts
Recent Events at Calderwood Pavilion at the Boston Center for the Arts