Citizens Bank Opera House
539 Washington Street
Boston
MA
02111
Venue Images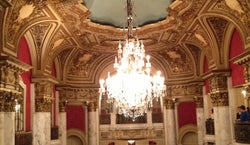 Citizens Bank Opera House Tickets and Event Schedule
Wednesday, Jun 12, 2019 / 7:30pm

Thursday, Jun 13, 2019 / 1:00pm

Thursday, Jun 13, 2019 / 7:30pm

Friday, Jun 14, 2019 / 8:00pm

Saturday, Jun 15, 2019 / 2:00pm

Saturday, Jun 15, 2019 / 8:00pm

Sunday, Jun 16, 2019 / 1:00pm

Sunday, Jun 16, 2019 / 6:30pm

Tuesday, Jun 18, 2019 / 7:30pm

Wednesday, Jun 19, 2019 / 7:30pm

Thursday, Jun 20, 2019 / 7:30pm

Friday, Jun 21, 2019 / 8:00pm

Saturday, Jun 22, 2019 / 2:00pm

Saturday, Jun 22, 2019 / 8:00pm

Sunday, Jun 23, 2019 / 1:00pm

Sunday, Jun 23, 2019 / 6:30pm

Tuesday, Jun 25, 2019 / 7:30pm

Wednesday, Jun 26, 2019 / 7:30pm

Thursday, Jun 27, 2019 / 7:30pm

Friday, Jun 28, 2019 / 8:00pm

Saturday, Jun 29, 2019 / 2:00pm

Saturday, Jun 29, 2019 / 8:00pm

Sunday, Jun 30, 2019 / 1:00pm

Sunday, Jun 30, 2019 / 6:30pm

Thursday, Oct 3, 2019 / 7:30pm

Friday, Oct 4, 2019 / 8:00pm

Saturday, Oct 5, 2019 / 2:00pm

Saturday, Oct 5, 2019 / 8:00pm

Sunday, Oct 6, 2019 / 1:00pm

Sunday, Oct 6, 2019 / 6:30pm

Tuesday, Oct 8, 2019 / 7:30pm

Wednesday, Oct 9, 2019 / 7:30pm

Thursday, Oct 10, 2019 / 1:00pm

Thursday, Oct 10, 2019 / 7:30pm

Friday, Oct 11, 2019 / 8:00pm

Saturday, Oct 12, 2019 / 2:00pm

Saturday, Oct 12, 2019 / 8:00pm

Sunday, Oct 13, 2019 / 1:00pm

Sunday, Oct 13, 2019 / 6:30pm

Wednesday, Oct 16, 2019 / 7:30pm

Thursday, Oct 17, 2019 / 7:30pm

Friday, Oct 18, 2019 / 8:00pm

Saturday, Oct 19, 2019 / 2:00pm

Saturday, Oct 19, 2019 / 8:00pm

Sunday, Oct 20, 2019 / 1:00pm

Sunday, Oct 20, 2019 / 6:30pm

Tuesday, Oct 22, 2019 / 7:30pm

Wednesday, Oct 23, 2019 / 7:30pm

Thursday, Oct 24, 2019 / 1:00pm

Thursday, Oct 24, 2019 / 7:30pm

Friday, Oct 25, 2019 / 8:00pm

Saturday, Oct 26, 2019 / 2:00pm

Saturday, Oct 26, 2019 / 8:00pm

Sunday, Oct 27, 2019 / 1:00pm
Accessibility
Accessible or ADA seating may be available at this venue through Goldstar. Contact us before buying tickets to make arrangements.
About Citizens Bank Opera House
When the Boston Opera House first opened its doors 84 years ago as the lavish B.F. Keith Memorial movie palace and vaudeville theater, the "Boston Globe" remarked that it was "so magnificent that it kind of takes your breath away for a while." A $54 million renovation brought the theater into the modern era, and today the majestic New England theater features an active program of top touring Broadway shows like "Wicked" and "The Book of Mormon" along with seasonal family shows like "The Nutcracker." Located in the heart of the lively Boston Theatre District, the Boston Opera House is also the permanent home of the world-renowned Boston Ballet.
Advisories
Shows are generally recommended for people 5 years of age or older. Late seating is at the discretion of house management.
519 Citizens Bank Opera House Tips
Dine before you go

1

Food and drinks for purchase

1
We found a parking garage on line, pre paid for $16. 660 Washington St two blocks from opera house. Easy, convenient...user friendly ?
Dine at Salvatore's right next door to the theater; great food at great prices.
Use spot hero and reserve your space on West Street garage or $25. Very easy and convenient.
Dinner at Teatro on Tremont St., very good. About 5 min walk to theater
Parking was about $16 across the street from the theatre after 5PM. Not too bad for Downtown Boston.
although not a bad seat in the house I would recommend one in the mezzanine to get the full effects to the show.
Disney's The Lion King
Top Events at Citizens Bank Opera House
Recent Events at Citizens Bank Opera House