Laugh Boston
425 Summer Street
Boston
MA
02210
Venue Images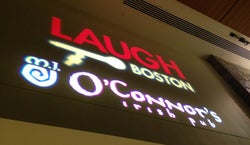 Laugh Boston Tickets and Event Schedule
Thursday, Nov 15, 2018 / 8:00pm

Friday, Nov 16, 2018 / 9:45pm

Friday, Nov 16, 2018 / 7:30pm

Saturday, Nov 17, 2018 / 9:45pm

Friday, Nov 23, 2018 / 9:45pm

Friday, Nov 23, 2018 / 7:30pm

Saturday, Nov 24, 2018 / 9:45pm

Thursday, Nov 29, 2018 / 8:00pm

Friday, Nov 30, 2018 / 7:30pm

Friday, Nov 30, 2018 / 9:45pm

Saturday, Dec 1, 2018 / 9:45pm

Thursday, Dec 6, 2018 / 8:00pm

Friday, Dec 7, 2018 / 7:30pm

Saturday, Dec 8, 2018 / 9:45pm

Thursday, Dec 13, 2018 / 8:00pm

Friday, Dec 14, 2018 / 7:30pm

Saturday, Dec 15, 2018 / 9:45pm

Friday, Dec 21, 2018 / 9:45pm

Friday, Dec 21, 2018 / 7:30pm

Saturday, Dec 22, 2018 / 9:45pm

Friday, Dec 28, 2018 / 7:30pm

Saturday, Dec 29, 2018 / 9:45pm

Sunday, Dec 30, 2018 / 8:00pm

Monday, Dec 31, 2018 / 6:00pm

Monday, Dec 31, 2018 / 8:00pm

Friday, Jan 4, 2019 / 9:45pm

Friday, Jan 18, 2019 / 9:45pm
Accessibility
Accessible or ADA seating may be available. Please contact us before buying tickets to make arrangements.
*
40 Laugh Boston Tips
Park in lot

2

Take public transit

1

Parking is expensive

1
Food and drinks for purchase

3

Dine before you go

2
The weather was chilly and windy. I wore light jacket.
Self-park in the Westin garage is very reasonable--$16 for 4 hours. Better than most Spothero options in the area.
Reasonable beer and wine. Come a little early to relax and have a drink in the very casual bar. Inside sit at comfortable little tables where drinks and light bar food is also served.
The weather was Raing. I wore Jeans.
Bring earplugs. The music is way too loud.
The Show Against Humanity
Laugh Boston entrance is through Westin Hotel lobby at 425 Summer Street.
Comedian Tom Papa
On street parking available and also at the Spot Hero Necco St Garage approx 1/2 mile walk.
Parking Near Laugh Boston
Click to View Interactive Map
Top Events at Laugh Boston
Recent Events at Laugh Boston