Medieval Times - Buena Park Castle
7662 Beach Blvd
Buena Park
CA
90620
Venue Images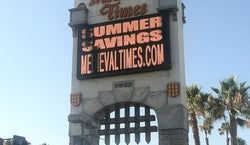 Accessibility
Accessible or ADA seating may be available at this venue through Goldstar. Contact us before buying tickets to make arrangements.
Advisories
Medieval Times is a live horse show in an enclosed arena. Persons with respiratory conditions, allergies, or asthma attend at their own risk. Medieval Times uses stroboscopic and pyrotechnic effects. Pricing includes sales tax. Gratuities are not included. Tickets not picked up 15 minutes before showtime may be released. Once in the Hall of Arms there are plenty of activities and festivities to enjoy. Visit the extensive gift shop, full-service bar and museum of torture, and observe the master falconer and the birds up close. Vegetarian meals are available upon request. Please advise your server of your meal request once you are seated at your table.
716 Medieval Times - Buena Park Castle Tips
I would skip the New Years event and just go to see the show some other time.
They give a lot of good food, they know that it is a large quantity, you get a to go box to take home leftovers.
Share anything else here. Just start typing...
The weather was Cool, crisp, clear night, 45 degrees. I wore Chiffon pants, sleeveless sweater, short jacket, scarf.... I was very cold sitting in handicap accessible seating area...we were seated in front of the entry doors to the arena, and there was a cold Draft the desire time.... freezing cold..
Don't forget to tip your server at least $5 per dinner for good service.
Food was good, half a chicken, one rib, soup and soda. Apple fritter treat for dessert.
Medieval Times Dinner and Tournament
Nearby Venues in Orange County
Top Events at Medieval Times - Buena Park Castle
Recent Events at Medieval Times - Buena Park Castle