Broadway Playhouse at Water Tower Place
175 East Chestnut Street
Chicago
IL
60611
Venue Images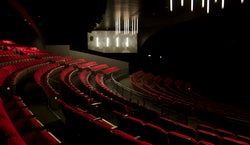 Broadway Playhouse at Water Tower Place Tickets and Event Schedule
Tuesday, Oct 22, 2019 / 8:00pm

Wednesday, Oct 23, 2019 / 8:00pm

Thursday, Oct 24, 2019 / 8:00pm

Friday, Oct 25, 2019 / 8:00pm

Saturday, Oct 26, 2019 / 4:00pm

Saturday, Oct 26, 2019 / 8:00pm

Sunday, Oct 27, 2019 / 2:00pm

Sunday, Oct 27, 2019 / 6:00pm

Tuesday, Oct 29, 2019 / 8:00pm

Wednesday, Oct 30, 2019 / 8:00pm

Thursday, Oct 31, 2019 / 8:00pm

Friday, Nov 1, 2019 / 8:00pm

Saturday, Nov 2, 2019 / 4:00pm

Saturday, Nov 2, 2019 / 8:00pm

Sunday, Nov 3, 2019 / 2:00pm

Sunday, Nov 3, 2019 / 6:00pm

Saturday, Nov 9, 2019 / 10:00am

Sunday, Nov 10, 2019 / 10:00am

Saturday, Nov 16, 2019 / 10:00am

Sunday, Nov 17, 2019 / 10:00am

Saturday, Nov 23, 2019 / 10:00am

Wednesday, Nov 27, 2019 / 10:00am
Accessibility
Accessible or ADA seating may be available at this venue through Goldstar. Contact us before buying tickets to make arrangements.
Advisories
Everyone must have a ticket. As a courtesy to the other patrons, it is the policy of the theater not to admit children under the age of 5.
57 Broadway Playhouse at Water Tower Place Tips
Park in lot

1

Parking is cheap

1
Dine before you go

2

Food and drinks for purchase

1

No food allowed

1
We arrived 3 hours early to walk along Michigan Avenue, eat, and shop. Parking discount at Water Tower Place resulted in great savings for us. Decorations were beautiful. No fancy dress seemed required.
STOMP
We found the Cuban diner, Cafecito. The food was freshly prepared. Great flavors. Good price point, especially for this area. Lots of variety in soft drinks, coffee options, salads, sandwiches, etc. I knew we had found good value for the $ when the police came to eat. 215 E. Chestnut.
STOMP
The weather was December. I wore Winter coat and long sleeves.
This theater is a great venue, lots of leg room, and not a bad seat in the house, since it is a smaller theater. There is parking at Water Tower which is a good deal, once you get your ticket validated at the the theater. We had dinner at Mity Nice in Water Tower and it was great. Love the salmon!! Our parking was $14.00 for the night and it was very convenient
The weather was Cool. I wore Definitely wear a sweater. Chilly just like every theatre.clised shoes also a good idea..
Cafecito, just east on Chestnut, for an informal bite before the show. Great pressed sandwiches - try the Cubano.
Use ParkWhiz or SpotHero for cheap parking.
Top Events at Broadway Playhouse at Water Tower Place
Recent Events at Broadway Playhouse at Water Tower Place