Fourth Presbyterian Church
126 East Chestnut
Chicago
IL
60611
Venue Images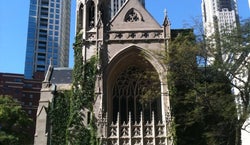 Accessibility
Accessible or ADA seating may be available at this venue through Goldstar. Contact us before buying tickets to make arrangements.
*
13 Fourth Presbyterian Church Tips
More restaurants within a 3 block radius for all taste and budgets
Bella Voce: 5th Annual Messiah
This is a prime Chicago location. Michigan Avenue at Delaware. Parking abounds inside parking lots and if you live in the area it's a beautiful time of the year to just simply walk. Concert is about 3 hours therefore we took a cab back home
Bella Voce: 5th Annual Messiah
The weather was Lovely Chicago evening crisp breeze in the air being on Michigan Avenue across of the Hancock building this is one place to dress warmly during the late fall early winter months. Personally had a lovely leather coat, holiday sequin sweater and my friend war a proper suit and tie..
Bella Voce: 5th Annual Messiah
Parking is always a hassle so mass tran. is preferable.
The church also provided coffee, tea, and a veggie tray for us, nice!
Casual event but since it was in a church definitely dress accordingly.
$6 parking across the street with validation.
Top Events at Fourth Presbyterian Church
Recent Events at Fourth Presbyterian Church