Guaranteed Rate Field
333 West 35th Street
Chicago
IL
60616
Venue Images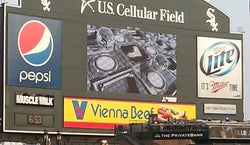 Accessibility
Accessible or ADA seating may be available. Please contact us before buying tickets to make arrangements.
Guaranteed Rate Field has been specifically designed to accommodate baseball fans requiring special assistance or attention, and every staff member is trained to respond to your needs. Please contact the nearest park employee if you require special assistance.
If you have any questions regarding the accessibility of the facility, contact Guest Relations at 312-674-5225; (TDD) 312-674-5188.
About Guaranteed Rate Field
image: «US Cellular» de User Zukkie44 on en.wikipedia – From en.wikipedia; description page is (was) here. Disponible bajo la licencia Creative Commons Attribution-Share Alike 3.0 vía Wikimedia Commons – http://commons.wikimedia.org/wiki/File:US_Cellular.jpg#mediaviewer/File:US_Cellular.jpg
389 Guaranteed Rate Field Tips
Food and drinks for purchase

1
Parking Near Guaranteed Rate Field
Click to View Interactive Map
Top Events at Guaranteed Rate Field
Recent Events at Guaranteed Rate Field