Spirit of Chicago
600 East Grand Avenue
Chicago
IL
60611
Navy Pier
Venue Images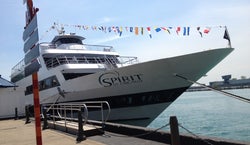 Spirit of Chicago Tickets and Event Schedule
Friday, Oct 25, 2019 / 11:00pm (Must Arrive by 11:00pm to Board)

Saturday, Oct 26, 2019 / 6:00pm (Boarding begins at 5:30pm)

Saturday, Oct 26, 2019 / Midnight (Boarding at 11:30pm)

Thursday, Oct 31, 2019 / 6:00pm

Saturday, Nov 2, 2019 / 11:00pm (Must Arrive by 11 PM in time to board)
Accessibility
Accessible or ADA seating may be available at this venue through Goldstar. Contact us before buying tickets to make arrangements.
77 Spirit of Chicago Tips
Park at section 5 / south dock
The ship is located at the far back of the pier so expect to walk. High heels will be a challenge.
The weather was perfect. Mid 70s with clear skies. I wore a polo and my wife had a dress with a light sweater. It was warmer than we anticipated..
There may be many kids present so this is really more of a family vibe than romantic. Keep that in mind:)
If you order the 45oz $30 drink to share... You get to keep the glass.
The weather was cloudy, yet warm.. I wore a dinner suit. .
Spirit of Chicago Buffet Cruise
The weather was 67 degrees slightly windy. I wore a dress and high heels. Some people wore jeans and nice shirt but most in business casual..
Top Events at Spirit of Chicago
Recent Events at Spirit of Chicago