UP Comedy Club
230 W. North Ave
Chicago
IL
60614
3rd Floor Pipers Alley
Venue Images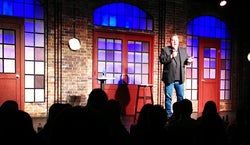 UP Comedy Club Tickets and Event Schedule
Friday, Jan 18, 2019 / 11:00pm

Saturday, Jan 19, 2019 / 11:00pm

Sunday, Jan 20, 2019 / 7:00pm

Thursday, Jan 24, 2019 / 8:00pm

Friday, Jan 25, 2019 / 11:00pm

Saturday, Jan 26, 2019 / 11:00pm

Sunday, Jan 27, 2019 / 7:00pm

Thursday, Jan 31, 2019 / 8:00pm

Friday, Feb 1, 2019 / 11:00pm

Saturday, Feb 2, 2019 / 11:00pm

Sunday, Feb 3, 2019 / 7:00pm

Monday, Feb 4, 2019 / 8:00pm

Tuesday, Feb 5, 2019 / 8:00pm

Wednesday, Feb 6, 2019 / 8:00pm

Friday, Feb 8, 2019 / 11:00pm

Saturday, Feb 9, 2019 / 11:00pm

Monday, Feb 11, 2019 / 8:00pm

Tuesday, Feb 12, 2019 / 8:00pm

Wednesday, Feb 13, 2019 / 8:00pm

Friday, Feb 15, 2019 / 11:00pm

Saturday, Feb 16, 2019 / 11:00pm

Monday, Feb 18, 2019 / 8:00pm

Tuesday, Feb 19, 2019 / 8:00pm

Wednesday, Feb 20, 2019 / 8:00pm

Friday, Feb 22, 2019 / 11:00pm

Saturday, Feb 23, 2019 / 11:00pm

Monday, Feb 25, 2019 / 8:00pm

Tuesday, Feb 26, 2019 / 8:00pm

Wednesday, Feb 27, 2019 / 8:00pm

Friday, Mar 1, 2019 / 11:00pm

Saturday, Mar 2, 2019 / 11:00pm
Accessibility
Accessible or ADA seating may be available at this venue through Goldstar. Contact us before buying tickets to make arrangements.
461 UP Comedy Club Tips
Take public transit

6

Call a cab

3

Parking is expensive

2
Dine before you go

4

Food and drinks for purchase

3
3rd floor parking is easy but costs $22
The weather was Chilly with some snow. . I wore Sweater, slacks and a shawl for extra warmth if needed inside. .
Metered street parking is available for max 3 hrs @ $4.00 / hr. If you park in the adjoining garage, I think it was $18, there is a direct entrance to the building on the 3rd level, otherwise you have to go outside and use the street entrance to enter. $9 extended parking was available (via Spothero) around the corner across the street on Wells St at the park at your own risk, old Treasure Island lot.
Plenty of food choices in surrounding Chicago' s Old Town ranging from chain restaurants to pubs with American fare to couple of Asian options
The food was surprisingly good.
I wore AC was on full blast -- we were freezing in shorts and a tee shirt -- wear jeans or bring a sweater! .
The Second City's Summer Blockbuster
Altho we don't drink, the waiter brought us free water, so I left a tip.
Top Events at UP Comedy Club
Recent Events at UP Comedy Club