Lyceum Theater
55 Fair Drive
Costa Mesa
CA
92626
At Vanguard University
Venue Images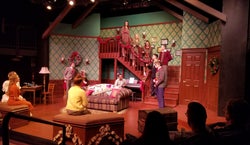 Lyceum Theater Tickets and Event Schedule
Friday, Nov 30, 2018 / 7:30pm

Saturday, Dec 1, 2018 / 2:00pm

Saturday, Dec 1, 2018 / 7:30pm

Sunday, Dec 2, 2018 / 2:00pm

Sunday, Dec 2, 2018 / 7:30pm

Thursday, Dec 6, 2018 / 7:30pm

Friday, Dec 7, 2018 / 7:30pm

Saturday, Dec 8, 2018 / 2:00pm

Saturday, Dec 8, 2018 / 7:30pm

Sunday, Dec 9, 2018 / 2:00pm

Thursday, Dec 13, 2018 / 7:30pm

Friday, Dec 14, 2018 / 7:30pm

Saturday, Dec 15, 2018 / 2:00pm

Saturday, Dec 15, 2018 / 7:30pm

Sunday, Dec 16, 2018 / 2:00pm

Thursday, Dec 20, 2018 / 7:30pm

Friday, Dec 21, 2018 / 7:30pm

Saturday, Dec 22, 2018 / 2:00pm

Saturday, Dec 22, 2018 / 7:30pm

Sunday, Dec 23, 2018 / 2:00pm

Thursday, Feb 21, 2019 / 7:30pm

Friday, Feb 22, 2019 / 7:30pm

Saturday, Feb 23, 2019 / 2:00pm

Saturday, Feb 23, 2019 / 7:30pm

Sunday, Feb 24, 2019 / 2:00pm

Sunday, Feb 24, 2019 / 7:30pm

Thursday, Feb 28, 2019 / 7:30pm

Friday, Mar 1, 2019 / 7:30pm

Saturday, Mar 2, 2019 / 2:00pm

Saturday, Mar 2, 2019 / 7:30pm

Sunday, Mar 3, 2019 / 2:00pm

Sunday, Mar 3, 2019 / 7:30pm

Thursday, Mar 7, 2019 / 7:30pm

Friday, Mar 8, 2019 / 7:30pm

Saturday, Mar 9, 2019 / 2:00pm

Saturday, Mar 9, 2019 / 7:30pm

Sunday, Mar 10, 2019 / 2:00pm

Friday, Apr 12, 2019 / 7:30pm

Saturday, Apr 13, 2019 / 2:00pm

Saturday, Apr 13, 2019 / 7:30pm

Sunday, Apr 14, 2019 / 2:00pm

Thursday, Apr 18, 2019 / 7:30pm

Thursday, Apr 25, 2019 / 7:30pm

Friday, Apr 26, 2019 / 7:30pm

Saturday, Apr 27, 2019 / 2:00pm

Saturday, Apr 27, 2019 / 7:30pm

Sunday, Apr 28, 2019 / 2:00pm
Accessibility
Accessible or ADA seating may be available. Please contact us before buying tickets to make arrangements.
Advisories
After the performance begins, latecomers will be seated through the back entrance in the last row if those seats are available. Regular seats may be taken at intermission.
282 Lyceum Theater Tips
Parking is free

3

Park in lot

2

Parking is a breeze

2
Dine before you go

1

Food and drinks for purchase

1

No food allowed

1
If you haven't printed the parking pass from Goldstar there is also a helpful person in front of the venue handing out parking passes for your car. Give yourself time to find parking as there are many dorm apartments near the theater.
Very easy parking. When you pick up your tickets be sure to get the free parking permit.
All Shook Up
I had a delicious sandwich for lunch before the matinee at 17th Street Deli.
When driving to the Lyceum take the 3rd driveway after Fair. Ave. to turn into the parking lot for the theater. At the box office they will give you a parking pass to put in your car window, so you can park for free.
Park in the lot by the theatre. It is free.
The weather was chilly. I wore heavy sweater.a sweater, flip-flops, etc..
Get there early if you like to use the restrooms before a show. They are not in the theatre building and take a while to walk to on the campus.
Parking Near Lyceum Theater
Click to View Interactive Map
Nearby Venues in Orange County
Top Events at Lyceum Theater
Recent Events at Lyceum Theater