Renee and Henry Segerstrom Concert Hall at the Segerstrom Center for the Arts
600 Town Center Drive
Costa Mesa
CA
92626
Venue Images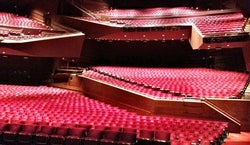 Renee and Henry Segerstrom Concert Hall at the Segerstrom Center for the Arts Tickets and Event Schedule
Thursday, Dec 6, 2018 / 8:00pm

Friday, Dec 7, 2018 / 8:00pm

Saturday, Dec 8, 2018 / 8:00pm

Tuesday, Dec 18, 2018 / 7:30pm

Wednesday, Dec 19, 2018 / 8:00pm

Thursday, Dec 20, 2018 / 8:00pm

Saturday, Dec 22, 2018 / 5:00pm

Sunday, Dec 23, 2018 / 3:00pm

Friday, Jan 25, 2019 / 8:00pm

Saturday, Jan 26, 2019 / 8:00pm
Accessibility
Accessible or ADA seating may be available. Please contact us before buying tickets to make arrangements.
Elevator does not go to Grand Tier- only stairs.
Advisories
All guests, including children and infants, must have a ticket.
637 Renee and Henry Segerstrom Concert Hall at the Segerstrom Center for the Arts Tips
Parking is cheap

1

Arrive early

1
Dine before you go

2

Food and drinks for purchase

2
Capital Grille, best service! Great food! Great atmosphere! A bit pricey but very nice!
The weather was Chilly but not freezing. Definitely a sweater and pants for inside the theater.. I wore Almost everyone was dressed casually. Nothing too fancy..
Leg room in the seats is limited. I wore heels and it was uncomfortable. Wear flats. The seats are extremely narrow. Thick coats and jackets are hard to work with.
they have beverages and snacks at the venue. There are nice restaurants in the area to eat at either before or after the show...
We actually parked across the street at South Coast Plaza as we were going to eat at Maggianoes after the show
The weather was rainy. I wore dress shirt and pants with dress shoes..
Self parking is $10. 5 minutes walk to venue.
Brahms & Prokofiev
Parking Near Renee and Henry Segerstrom Concert Hall at the Segerstrom Center for the Arts
Click to View Interactive Map
Nearby Venues in Orange County
Top Events at Renee and Henry Segerstrom Concert Hall at the Segerstrom Center for the Arts
Recent Events at Renee and Henry Segerstrom Concert Hall at the Segerstrom Center for the Arts