Segerstrom Center for the Arts; Teatro ZinZanni Spiegletent
600 Town Center Drive
Costa Mesa
CA
92626
Venue Images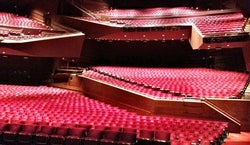 Accessibility
Accessible or ADA seating may be available at this venue through Goldstar. Contact us before buying tickets to make arrangements.
Advisories
Seating is assigned by the maitre d' the night of the show. Seat assignments are at the discretion of the house. You may be seated with other parties. Generally, Teatro ZinZanni is unable to seat parties together that order separately. Late seating is at the discretion of the house managers. Missed dinner courses may not be served to latecomers. This offer may not be used in conjunction with any other offer or Teatro ZinZanni membership privileges/upgrades. No children 5 or younger will be admitted to this event. The ticket price includes: a gourmet five-course meal and a 3-hour performance. The ticket price does not include beverages, beverage gratuity or parking fees. Ticket price includes a handling fee and food tax. A $7-per-person dining room service charge plus applicable tax will be included in your bill at the end of the evening.
648 Segerstrom Center for the Arts; Teatro ZinZanni Spiegletent Tips
or, add your own...
Peter Pan
I wore Leggings and a tunic. It was cool, so bring a sweater!.
Peter Pan
I wore a sweater, flip-flops, etc..
Expect to share table with strangers, but it works out ok.
Parking at Performing Arts Center in structure cost $10.
Parked at sears south coast plaza shopping str for free accross the st.
Nearby Venues in Orange County
Top Events at Segerstrom Center for the Arts; Teatro ZinZanni Spiegletent
Recent Events at Segerstrom Center for the Arts; Teatro ZinZanni Spiegletent