Glendale Centre Theatre
324 N. Orange St.
Glendale
CA
91203
between W Lexington and W California
Venue Images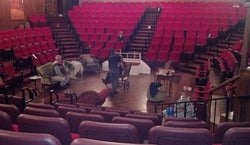 Accessibility
Accessible or ADA seating is regularly available. Contact us after buying tickets by replying to your confirmation email to make arrangements.
The theatre is ADA accessible.
131 Glendale Centre Theatre Tips
Get there early to park in the pay lot right next to the theatre. There is a Porto's nearby if you want to park once then eat and see the show.
Plenty of street parking.
American Red Cross Fritz Coleman Comedy Night
They validate parking in the structure further down the street. Something like $1 for 4 hours(?)
Damon's Steakhouse (back entrance is in parking lot next to theater) is very convenient.
or, add your own...Parking is free in the BofA lot if you're lucky and get there early. Otherwise, park in the adjacent meter lot which won't cost more than $4.00 and takes credit cards. There's also parking down Orange Ave in a parking structure which is also not expensive.
The weather was sunny, windy, etc.. I wore a sweater, flip-flops, etc..
Park in the parking structure to the North
Nearby Venues in Los Angeles
Top Events at Glendale Centre Theatre
Recent Events at Glendale Centre Theatre