Oil Lamp Theater
1723 Glenview Road
Glenview
IL
60025
Venue Images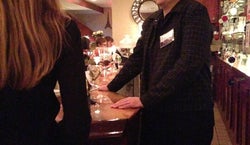 Accessibility
Accessible or ADA seating may be available at this venue through Goldstar. Contact us before buying tickets to make arrangements.
*
About Oil Lamp Theater
The goal of Oil Lamp Theater is to create an experience that "immerses" the guest completely into the performance. Upon arrival at the theater, each guest is personally greeted by the Artistic Director or a representative of the theater. The lobby space is decorated in a way that is warm and comforting with as many features of home as possible. The space is designed to encourage a relaxed atmosphere that promotes a gathering and conversation. The lobby space includes 70 tea lights that are lit each night. Freshly-baked cookies, snacks and soda are complimentary. The Theater is BYOB so guests are invited to bring a beverage to enjoy during the performance. Glasses and corkage are provided at no additional charge.
The 60-seat theater space itself is designed to be more home-like and welcoming than a black-box theater. The chairs are stand-alone padded chairs on simple risers that blend into the stage space with minimal barriers between. Guests are never farther than 25 feet from the stage. The Theater also continues its tradition of a post-show gathering of cast and guests to discuss the play and engage in conversation. All guests and cast are encouraged to participate. The theater, lobby and restrooms of the theater are all handicap accessible.
68 Oil Lamp Theater Tips
Parking is free

2

Parking is a breeze

1
It's byob theater. Small venue so wherever you sit you can see well.
Glenview Rd, east of Waukegan Rd, is under construction, but it's open to the parking lot from the west.
There is parking in front of the building as well as a public lot a stone's throw away. So, parking is not a concern.
It's a Wonderful Life — A Live Radio Play
Bring your own alchohol if desired. Free parking. Casual dress.
Barefoot in the Park
Top Events at Oil Lamp Theater
Recent Events at Oil Lamp Theater