El Cid
4212 Sunset Blvd.
Los Angeles
CA
90029
Venue Images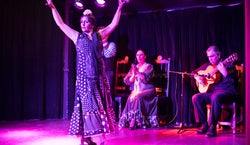 El Cid Tickets and Event Schedule
Thursday, Nov 15, 2018 / 7:00pm

Friday, Nov 16, 2018 / 7:00pm

Sunday, Nov 18, 2018 / 12:30pm

Sunday, Nov 18, 2018 / 7:00pm (Pantheon)

Sunday, Dec 16, 2018 / 12:30pm

Sunday, Dec 16, 2018 / 7:00pm
Accessibility
Accessible or ADA seating is regularly available. Please contact us after buying tickets by replying to your confirmation email to make arrangements.
El Cid is wheelchair accessible from the lower parking lot.
401 El Cid Tips
Food and drinks for purchase

1
Some parking on street, but you have to go down many stairs. Share anything else here. Just start typing...
The weather was Warm & sunny. I wore Halloween themed outfit...black widow facinator, fun glam jewelry .
$24/person minimum. Doors were to open by 7pm, but we were lined up waiting out front until 7:40pm.
I wore casual attire is fine. .
Flamenco Show for Two
There's free street parking in the front but if it's full, go to the bottom parking lot
Flamenco Brunch
Parking was difficult to find.
Dia de los Muertos
The weather was Breezy. I wore collard shirt, nice jeans and a leather jacket. .
Dia de los Muertos
Parking Near El Cid
Click to View Interactive Map
Nearby Venues in Los Angeles